Fluidic Oscillation Water Meter offers 2 battery options.
Press Release Summary: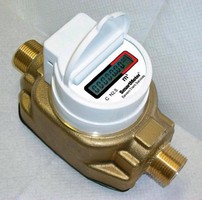 Available in basic visual read model or in fully AMR-enabled format, SmartMeter(TM) Model SM700 is unaffected by presence of air in system and has no moving parts, so it is not negatively affected by wear and accuracy problems caused by sand and grit. Unit is provided with replaceable battery that delivers up to 10 additional years of use with each new battery, or encapsulated battery that operates in submersed pits or other underwater applications.
---
Original Press Release:

Severn Trent Services Expands Line of SmartMeters



New SmartMeter(tm) Expands Severn Trent Services' Leadership Line of Water Meters

The SM700 offers option of replaceable battery that reduces whole life cost of meter, or encapsulated battery for superior performance in submersed pits and other underwater applications; SmartMeters feature fluidic oscillation technology, a standard for which was recently approved by the AWWA

FORT WASHINGTON, Pa. - September 1, 2005 - Severn Trent Services has introduced an addition to its leadership line of SmartMeter(tm) fluidic oscillation water meters. The new SM700 offers users two battery options: a replaceable battery that provides up to 10 additional years of use with each new battery, reducing the meter's whole life cost; or an encapsulated battery that provides superior performance in submersed pits or other underwater applications.

The American Water Works Association (AWWA) recently developed the C713 design and quality standard for fluidic oscillation meters, the technology for which Severn Trent Services pioneered. The standard enables solid-state fluidic oscillator water meters to be evaluated against a recognized standard for use throughout North America.

The addition of the new SM700 meter to the Severn Trent Services' existing state-of-the-art technology range provides an extension in options and functionality to the SE700 solid-state meter. The SM700 boasts a potted LCD register with the option of an entirely encapsulated battery to provide increased robustness for use in submersed pits or other underwater applications. The SM700 also is available without the encapsulated battery, instead utilizing a battery that can easily be replaced after the 10-year life has expired to extend the meter's life by a further 10-year period. The new SM700 ensures that the battery no longer determines the life of the meter, thereby resulting in a significant reduction in whole life cost.

SmartMeter water meters address the global need for economic smart metering technology that offers superior accuracy. The presence of air in water systems does not affect SmartMeter accuracy because the fluidic oscillation technology measures only the flow of water. With no moving parts, the SM700 is not negatively affected by the wear and subsequent accuracy problems that are caused by sand and grit. The SM700 is available as both a basic visual read model or in a fully AMR enabled format using inductive pads and radio attachments through the encoded meter version.

Dr. Neil Furmidge, Technical Director from Severn Trent Services said, "The SM700 meter represents yet another technological development to extend the scope of SmartMeter solutions. SmartMeters are designed to satisfy the diverse range of requirements from the many companies worldwide that are metering their customers' water supplies."

About Severn Trent Services
Severn Trent Services (www.severntrentservices.com), based in Fort Washington, Pa., is a leading supplier of water and wastewater treatment solutions. The company's broad range of products and services is concentrated around disinfection, instrumentation, and filtration technologies, pipeline analysis, rehabilitation and repair services, contract operating services and state-of-the-art residential metering products and services. Our international management services business provides support in all aspects of water and wastewater utility operational development and business transformation. Severn Trent Services is a member of the Severn Trent Plc (London: SVT.L) group of companies. An international environmental services leader, Severn Trent is a FTSE 100 company.

CONTACT:
Lori Doppelt
215-997-3727
ldoppelt@severntrentservices.com

More from Services