Fluidaire Cleaning Services Announces Expansion of Polymer Cleaning Applications Lab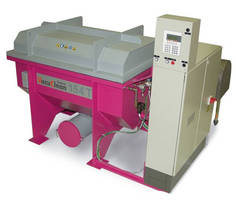 Fluidaire Cleaning Services Inc. (FCS), a leading supplier of thermal cleaning systems for the plastics and fiber industries located in New Brunswick, NJ has recently expanded their facility by installing a state of the art Vacuum Pyrolysis Furnace in their applications lab.

The new VacuClean 254T supplied by SCHWING from Germany offers unique features designed for quality thermal cleaning of parts such as dies, spinpacks, breaker plates, manifolds, screws, filters, etc. This system has many unique features such as a built in catalytic converter than ensures the highest level of pollution management of off gases, extremely low energy consumption, internal sensors to ensure no thermal damage is made on the parts, special software functions for preheating or drying, space saving side loading, and numerous safety and pollution controls.

Robert Lasky, Vice President stated " We recognized the demand for the VacuClean in the US market and this marks a very important step to better service our customers with trials, contract cleaning services, and recommended solutions. We also have a demonstration model of our Fluid Bed Furnace on site. Because we perform contract cleaning services, we can offer customers valuable know-how along with the systems we offer."

FCS was established in 1996 as a joint venture between Procedyne in New Jersey and SCHWING Fluid Technik GmbH located in Germany. Together, both companies have supplied thousands of systems into the market for applications such as injection molding, blown film, filament, fiber, resin manufacturing, etc. More information may be found at www.fluidaire.com.


More from Cleaning Products & Equipment