Fluid Sensors incorporate automatic calibration circuitry.
Press Release Summary: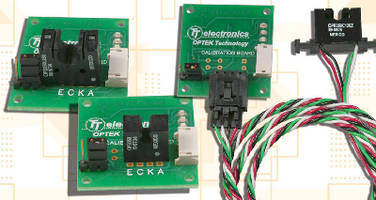 Used for detecting fluid presence in transparent tubing, OCB350 Series consists of LED and phototransistor packaged in opaque plastic housing that enhances ambient light rejection. It requires only optical device and power supply for operation, and included features minimize effects of changes in sensor's optics due to manufacturing variances, ambient light, temperature fluctuation, and degradation of LED/phototransistor over time. Preset trip level feature is also included.
---
Original Press Release:

OPTEK Enhances Family of Fluid Sensors with Automatic Calibration Circuitry



Calibration circuitry, preset trip level increase reliability, consistency of fluid sensing system...

CARROLLTON, TX -- (March 19, 2009) -- Providing design engineers with a simplified means of detecting the presence of fluid in transparent tubing, TT electronics OPTEK Technology has expanded its family of fluid sensors to include automatic calibration circuitry and a preset trip level feature. Designated the OCB350 Series, the fluid sensor with self-calibration circuitry requires only an optical device and power supply for operation. Like the original OPB350 Series sensors, these devices use an LED/phototransistor to sense the change in refractive properties between full and empty tubing as it passes through the sensor housing, creating multiple output states such as "fluid present," "no fluid present," and "no tube present."

"The additional features of the OCB350 Series fluid sensors are designed to minimize the effects of changes in the sensor's optics due to manufacturing variances, ambient light, temperature fluctuation and the degradation of the LED and phototransistor over time," said Alan Bennett, vice president of sales for OPTEK Technology. "The calibration circuit allows design engineers to narrow the expected output state, allowing the fluid sensors to operate with the same start up setting for years, enhancing the reliability and consistency of the entire system."

The OCB350 Series liquid sensor consists of an LED and phototransistor packaged in an opaque plastic housing that enhances ambient light rejection. The housing features an opening designed to accommodate clear tubing with outer diameters of 0.0625" (1.6mm), 0.125" (3.2mm) or 0.1875" (4.8mm). The presence of clear liquid causes the phototransistor to sink the maximum current, while the presence of dark liquid causes it to sink the minimum current. As bubbles pass through the tube, the signal will vary between the "liquid present" and "no liquid" states. If no tube is present, the phototransistor sinks current between the dark fluid and clear fluid states.

The OCB350 Series sensors are designed to maintain the calibrated setting even if power is lost. Designers can initiate the calibration procedure at any time by grounding the J1-pin-4, which allows the device to be remotely calibrated and then mounted in the equipment. The calibration system features four lights that acknowledge when the device is being calibrated (blinking green LED); that the device could not be calibrated (red LED); when the analog output has reached the logical trip higher than the calibration point (blue LED) or lower than the calibration point (green LED).

When the system calibrates the sensor, it raises the current through the LED from 0mA to 14mA, until the phototransistor reaches the preset point. Once calibrated, the setting will remain constant, allowing for faster start up.

The LED features a forward DC current of 50mA with a peak current of 1.0A. Reverse DC voltage is 2.0V and power dissipation is 100mW. The output phototransistor features a maximum collector-emitter voltage of 24V or 30V, with collector DC current of 50mA and power dissipation to 100mW. Operating temperature range is from -40°C to +85°C.

The sensors are ideal for non-contact fluid sensing applications including IV fluids, oils and other petroleum products, colored fluids, toner and water.

Typical pricing for the OCB350 Series fluid sensor is $13.15 each in quantities of 1k pieces. Lead time, if stock is not available, is from 6 to 8 weeks.

For more information about OPTEK's OCB350 Series fluid sensors, contact TT electronics OPTEK Technology at 1645 Wallace Dr., Carrollton, TX, 75006; call 972-323-2200, or visit OPTEK on the web at www.optekinc.com/viewparts.aspx?categoryID=28. In Europe, contact JP Delaporte at info@optek-europe.com. In Asia, contact T.H. Swee at thswee@optekasia.com or call +852-9190-4641.

OPTEK is a leading manufacturing and solutions provider for sensing and illumination covering the infrared, visible and ultraviolet spectrum; with standard as well as application specific products for a variety of markets, including, but not limited to office machines, industrial equipment, encoders, automotive electronics, military and high-reliability applications, medical diagnostic equipment and solid-state lighting. Headquartered in Carrollton, TX, the company is ISO/TS16949:2002 and BS EN ISO 9001:2000 certified, as well as ITAR registered. OPTEK Technology was acquired by TT electronics in December 2003.

TT electronics plc is a global electronics company manufacturing a broad range of advanced electronic components, assemblies and sensor modules for the automotive, industrial, telecommunication, computer and aerospace markets.

More from Architectural & Civil Engineering Products