Fluid Processor reduces particles to sub-micron size.
Press Release Summary: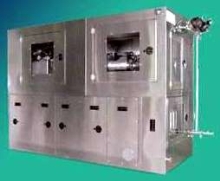 With dual synchronous intensifier pumping system, M-710 Microfluidizer® keeps product flowing near constant pressure through fixed geometry interaction chamber. Resultant shear forces reduce particles and droplets to sub-micron sizes with narrow, uniform distribution, in one pass. Stainless steel, 100 hp fluid processor is capable of producing flow rates starting at 2 gpm @ 40,000 psi to over 10 gpm @ 5,000 psi in batch or continuous mode.
---
Original Press Release:

Microfluidics Presents M-710 Microfluidizer®


Model Reduces Particles and Droplets to Sub-Micron Sizes in a Single Pass, Offering a Cost-Effective Scale-Up Alternative

Newton, Mass. - Microfluidics, a wholly owned subsidiary of MFIC Corporation, introduces the M-710 Microfluidizer®, a stainless steel 100 HP high-shear fluid processor designed to compliment the existing M-700 Series product offering. Capable of producing flow rates anywhere from two gallons per minute (GPM) at 40,000 psi to more than ten GPM at 5,000 psi in batch or continuous mode, the M-710 is a suitable alternative to expensive high-pressure fluid processors or traditional homogenizers.

With the aid of the dual synchronous intensifier pumping system, the product is kept flowing at high velocities and near constant pressure through the patented fixed geometry interaction chamber, resulting in shear forces intense enough to reduce particles and droplets to sub-micron sizes with narrow and uniform distribution, usually in a single pass.

Additionally, the M-710 processor is capable of uniform deagglomeration, dispersing and distributing particles to create very stable emulsions and solids-in-liquid suspensions.

The lightweight Zirconia ceramic plungers within the intensifier pumps incorporate long life, wear-resistant high-pressure seals, and when coupled with the interaction chamber's abrasion-resistant ceramic or diamond construction keep maintenance and repair costs to a minimum.

The M-710 comes with an optional Ultra-Clean-in-Place (UCIP) feature that thoroughly cleans the system between batches or before storage. Because the interaction chamber employs no moving parts, no disassembly is required for cleaning.

Most existing options and accessories for the M-700 series are compatible with the M-710 product line, including flush diaphragm pressure transducers, feed pumps and temperature sensors, and a split-system design for clean room production areas with limited space.

About Microfluidics
Microfluidics, a wholly owned subsidiary of MFIC Corporation, provides patented and proprietary high performance Microfluidizer® materials processing equipment to the biotechnology, pharmaceutical, chemical, cosmetics/personal care and food industries. Microfluidics applies its nearly 20 years of high pressure processing experience to produce the most uniform and smallest liquid and suspended solid structures available, and has provided manufacturing systems for nanoparticle products for more than 15 years. The Company is a leader in advanced materials processing equipment for laboratory, pilot scale and manufacturing applications, offering innovative technology and comprehensive solutions for nanoparticles and other materials processing and production. More than 3,000 systems are in use and afford significant competitive and economic advantages to Microfluidics equipment customers.

Companies seeking an affordable, high-pressure fluid processor can get complimentary sample testing at one of three Microfluidics facilities. Visit www.microfluidicscorp.com, email mixinginfo@mfics.com or contact Microfluidics at 800.370.5452 for application information.

More from Electronic Components & Devices