Fluid Dispenser incorporates programmable control.
Press Release Summary: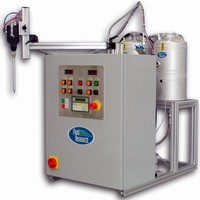 Designed for high-volume fluid dispensing, Advantage III features programmable control system that lets operator change ratio and shot size by pressing a few buttons. Solution can store up to 110 program settings, creating virtual bank of configurations. This helps achieve automated dispensing, promoting efficiency and consistency.
---
Original Press Release:

Fluid Research Raises the Dispensing Bar with Advantage III



Fluid Research Raises the Bar with New Advantage III [Tustin, CA] - Fluid Research, the leading innovator and manufacturer of precision dispensing equipment, introduced the next generation in high-volume Fluid Dispensing, the Advantage III.

"The Advantage III features a programmable control system combined with versatility and accuracy; creating the reliability that is required for critical applications." Comments Stephen Gordon, VP of Operations, "The control system allows the operator to change ratio and shot size by the press of a few buttons - a feat that would normally require a complete reconfiguration of the traditional dispensing equipment."

"Our Advantage III can store up to 110 program settings; creating a virtual endless bank configurations," States Gordon, "This is another step in complete automation of dispensing - creating efficiency, consistency and dependability - it's nearly impossible to accomplish those using manual labor"

Fluid Research recently acquired a new facility to triple their manufacturing floor space, acquired new management staff, and constructed the industry's first Environmental Testing Lab. Fluid Research is dedicated to educating people to the benefits of automation; from efficiency and consistency to health and safety; automation elevates these features to a level that cannot be obtained anywhere else.

Fluid Research Corporation was founded in 1996 to provide superior accuracy in dispensing single and multiple component adhesives, sealants and polymers. The company currently holds multiple U.S. foreign patents for its proprietary technology, which uses progressing cavity pumps and sophisticated electronic controls in an extensive line of metering and dispensing systems. Typically custom-engineered to user specifications, Fluid Research equipment can be found in a wide variety of industries, including automotive components, aerospace fabrication, electronics, solar energy systems, electrical power systems, polymer molding, chemical fastening, dome labeling, health and beauty, medical electronics, sporting goods, and filtration equipment.

For more information Contact:
Fluid Research Corporation
sales@fluidresearch.com
15775 Gateway Circle
Tustin, CA 92780
Phone: 714.258.2350
Fax: 714.258.2352
Website: www.fluidresearch.com
Email: sales@fluidresearch.com

Related