Fluid Detector monitors fluid in tanks and piping.
Press Release Summary: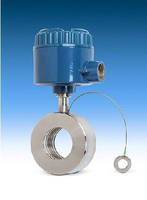 Mounting directly into existing pipelines between 2 standard 150 lb flat-faced flanges, Clear Line™ Fluid Detector uses RF admittance to monitor presence or absence of fluid, providing complete assurance that tank is empty. Proprietary Cote-Shield™ circuitry ensures dependable detection regardless of conductive coatings or product build up on sensor. Featuring sanitary, crevice-free design, Clear Line works without recalibration on processes where fluids can vary from organics to caustics.
---
Original Press Release:

Clear Line(TM) In-Line Fluid Detector from Drexelbrook Monitors Presence or Absense of Fluid in Tanks and Piping



HORSHAM, PA – AMETEK Drexelbrook, an acknowledged leader in level measurement, has added the Clear Line™ Fluid Detector to its level and analytical measurement product line. The Clear Line is designed specifically for pipe and tank applications in hydrocarbon, pharmaceutical, chemical and food processing industries, where it monitors the presence or absence of fluid in a pipe to provide complete assurance that the tank is empty.



The detector mounts directly into existing pipelines between two standard 150-lb, flat-faced flanges. Without interfering with product flow, it uses RF admittance technology to detect when material is present or absent from a pipe. This is especially important for users of expensive pumps who want to prevent damage or burn out from a pump running empty.



Each Clear Line detector is factory-calibrated to provide reliable, repeatable performance regardless of changes in process fluids and coatings or variations in temperature, conductivity and density.  Drexelbrook's proprietary Cote-Shield™ circuitry ensures dependable detection regardless of conductive coatings or product build up on the sensor. 



The Clear Line works without recalibration on processes where fluids can vary from organics to caustics.  It also can be used for interface detection to accurately determine when a material changes from one phase to another.  This is especially useful in processes involving material separation.



The sanitary, crevice-free design of the Clear Line detector means no cracks or crevices, and the ultra-smooth surface is ideal for shear-sensitive products. Routine maintenance is not required.



AMETEK Drexelbrook is a level measurement industry pioneer with more than 50 years of experience.  It offers process level measurement solutions, including RF Capacitance / Admittance, TDR/GWR, Radar, Ultrasonic, Magnetostrictive, Hydrostatic, Vibration, Conductive and Float devices.



Drexelbrook level measurement instruments are used in a wide range of industries, including petroleum, chemical, petrochemical, food/beverage, water/wastewater, power, pharmaceutical, pulp/paper, mining, aggregates, feed/grain among others.



AMETEK Drexelbrook is a unit of AMETEK, Inc., a leading global manufacturer of electronic instruments and electromechanical devices with annual sales of $4.0 billion. For more information, contact AMETEK Drexelbrook, 205 Keith Valley Road, Horsham, PA 19044.  Telephone:  215-674-1234 or Fax: 215-674-2731. Website:  www.drexelbrook.com

More from Software