Fluid Coupling produces soft start/stop for belt conveyors.
Press Release Summary: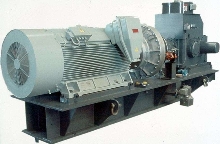 True Torque(TM) incorporates brake disc into fluid coupling mounting arrangement and features adjustable metering orifices. When starting inclined belt conveyor, product provides soft start, eliminating belt liftoff and stretch. During shutdown, application of brake decelerates conveyor belt and prevents conveyor rollback. Coupling, constructed with double delay chamber, can achieve 40 sec starting profiles while limiting torque to 120% of nominal load.
---
Original Press Release:
New True Torque(TM) Fluid Coupling with Brake Disc - Soft Start, Soft Stop & Holdback for Belt Conveyors to 1250 HP and 1800 RPM!
Milwaukee, WI - Falk's NEW True Torque(TM) Fluid Coupling incorporates a brake disc into the fluid coupling mounting arrangement. The result is an economical, space saving package. When starting an inclined belt conveyor, the fluid coupling provides a soft start, thereby eliminating belt liftoff and belt stretch. During shutdown, application of the brake decelerates the conveyor belt and prevents conveyor rollback. Falk also offers the complete line of Svendborg caliper disc brake packages. True Torque(TM) Fluid Couplings with double delay chamber can achieve 40 second starting profiles, while limiting torque to 120% of nominal load. Adjustable metering orifices regulate the passage of fluid from the delay chamber into the working circuit. Startup characteristics of the fluid coupling are easily field adjusted, simply add or drain fluid to accommodate site variables. A fill angle finder is furnished with each coupling. Where multiple motors drive a single belt conveyor, install a True Torque(TM) Fluid Coupling at each motor. Precise adjustment of fluid fill at each coupling achieves optimum load sharing. With fluid couplings present, multiple motors can be started in a timed succession, providing further soft start, and reducing the demand on electrical systems. Two brake disc mounting arrangements are offered. Gear coupling mounting is most economical. The disc coupling mounting allows high speed at high HP, and requires no lubrication. For more information on Falk's products and services, contact The Falk Corporation, 3001 W. Canal Street, Milwaukee, WI 53208, USA, Phone: 414.937.4686, Fax: 414.937.4062, E-Mail: info@falkcorp.com. Web Site: www.falkcorp.com The Milwaukee, WI based Falk Corporation offers drive systems, gear drives, gearmotors, shaft couplings, fluid couplings, coupling guards, ring gears, and steel castings in mining, metal processing, pulp and paper, cement, aggregates, chemical processing, utilities, transportation, and food processing.
More from Software