Fluid Containment Dike is chemical resistant.
Press Release Summary: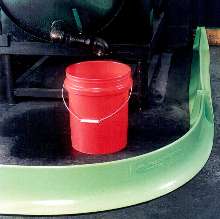 Flexible, reusable PIG® SPILLBLOCKER® Dike, in high-visibility lime green, promotes safety and reduces tripping hazards. Constructed of 100% polyurethane, dike contains and diverts flow of liquids without absorbing them. It is available in 4½ and 6¾ in. sizes for controlling different volumes of liquid. Built-in connectors at each end allow 5 ft long dikes to be connected to reach desired length.
---
Original Press Release:
New Pig Introduces Lime Green SPILLBLOCKER® Dikes
Tipton, PA, September 15, 2002 - New Pig Corporation has recently introduced their popular PIG® SPILLBLOCKER® Dike in high-visibility lime green. This new, bright color helps promote safety and reduce tripping hazards. Constructed of 100% polyurethane, these bright green Dikes can contain or divert the flow of liquids without absorbing them. The SPILLBLOCKER® Dike is available in two sizes: 4½" and the taller 6¾" for controlling different volumes of liquid. The five-foot long dikes have built-in connectors at each end that allow additional dikes to be connected until desired length is reached. The Dikes are chemically resistant, flexible and reusable. New Pig is CRAZY 'BOUT CLEAN® and has been since 1985. Believing that a clean plant is safer and more productive, New Pig invented the first contained absorbent, the Original PIG® Absorbent Sock, changing leak and spill management forever. Built around its award-winning Pigalog® catalog, innovative product line, and legendary service, the company has thrived. Now a multi-channel, multi-brand supplier of innovative liquid management solutions to industrial, institutional, and government facilities in over 40 countries, PIG® products, services, and technical expertise help workplaces get clean and stay clean. The company's Pigalog® catalog features a wide variety of exclusive and innovative PIG® Brand products, including the largest selection of absorbent socks, mats, pillows, pans, and booms in the world. In addition, the expanding product line includes material handling equipment, personal protection apparel, spill response supplies, disposable and pre-moistened wipers, and other workplace safety products. PIG® products and other quality brands are also available through its web site at www.newpig.com. Other channels offering PIG® products include all Safety-Kleen branches, select Integrated Suppliers, and B-to-B E-Commerce exchanges. For more information or a FREE Pigalog® catalog, contact New Pig at One Pork Avenue, Tipton, PA 16684 or call 1-800-HOT HOGS® (468-4647). The company's e-mail address is hothogs@newpig.com and website is www.newpig.com.