Flowmeters/Controllers feature max flowrate of 100 L/min.
Press Release Summary: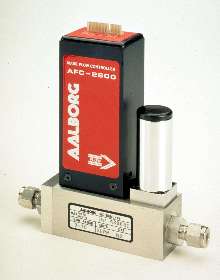 CE compliant, AF Thermal Mass Flowmeters and Controllers use straight tube sensors to ensure laminar gas flow. Materials in contact with gases are stainless steel and Viton(TM) O-rings. PC boards have built-in polarity reversal protection, and resettable fuses provide power input protection. Response time is typically 1 sec to within ±2% of flow setting. Units provide 0-5 Vdc output and ±1% full scale accuracy. Maximum gas pressure is 500 psig.
---
Original Press Release:

Mass Flowmeters and Controllers


CE Compliant AF Thermal Mass Flowmeters and Controllers, designed to accurately measure and control flowrates of gases. Flowrates are virtually unaffected by temperature and pressure variations.

Straight tube sensors are designed to ensure laminar gas flow. Materials in contact with gases are stainless steel and Viton(TM) O-rings. PC boards have built-in polarity reversal protection. Resettable fuses provide power input protection. As a safety feature electromagnetic valves of controllers are normally closed thus in case of a power outage the flow of gas would be shut off.

Maximum flowrate is 100L/min [N2, in eighteen conveniently overlapping standard flow range

Optional Command Modules and RS232 or RS485 external port options.

Accuracy: ± 1% of full scale.
Repeatability: 0.2% of full scale.
Time Constant: 300 to 600ms.
Response Time: Typically 1 second to within ±2% of flow setting.
Maximum Gas Pressure: 500 psig / 34.5 bars.
Transducer Input: +15 ±5% Vdc / -15 ±5%.
Output Signal: 0 - 5 Vdc or optional 4 - 20 mA.
Leak Integrity: 1 x 10-9 sccs He maximum.
Connections: 1/4 or 3/8" compression fittings.

For more information contact:
Aleks Benis
Technical Support