Flowmeter Series uses Annubar primary T-shaped sensor.
Press Release Summary: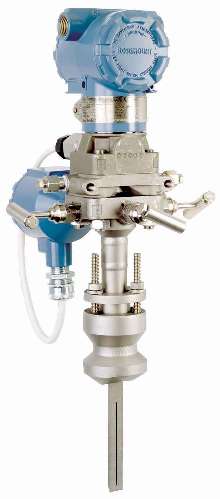 Rosemount® Model 485 Annubar® product line permits use of differential pressure instrumentation for flow measurement. Frontal slot design extends across entire pipe diameter, sampling 80% of fluid profile. Model 3051SFA ProBar®, with Model 3051S transmitter, provides user-configured flow units, low flow cut-off, and custom process alerts. Model 3095MFA Mass ProBar flowmeter, with Model 3095 Multivariable transmitter, enables accurate mass flow output from 1 pipe penetration.
---
Original Press Release:

Emerson's New Averaging Pitot Tube Technology Increases Flowmeter Performance and Reliability


Flowmeter technology of Rosemount® Model 485 Annubar® used with Rosemount transmitters extends application of differential pressure measurement.

Chanhassen, Minnesota (20 November 2002) - Emerson Process Management introduces its Rosemount Model 485 Annubar product line. This new technology platform enhances the user's ability to use differential pressure (DP) instrumentation for more reliable and economical flow measurement.

The new Annubar primary introduces a revolutionary T-shaped sensor. This patented design is the highest performing, most stable averaging pitot tube (APT) on the market. The improvements created by the new sensor enable users to extend their use of APTs into new measurement points such as lower flow and control applications.

Two features of the new design enhance flow measurement performance. The T-shape facilitates the creation of stagnation zones on the backside of the primary, which significantly reduces signal noise. A new frontal slot design extends across the entire pipe diameter and increases the accuracy of the measurement by sampling at least 80 percent of the fluid profile.

Integrating the new Annubar sensor with Rosemount transmitters to create a flowmeter provides a more cost effective and reliable measurement while reducing potential leak points by 90 percent and decreasing installation costs by 30 percent.

The Model 3051SFA ProBar® combines the new Annubar design with Rosemount's Model 3051S, the latest in transmitter technology. This flowmeter provides advanced software capability, including user configured flow units, low flow cut-off and customized process alerts. Installation flexibility is improved because users are able to install their flowmeter directly in the process piping and position their display and communication ports at-grade.

The Rosemount Model 3095MFA Mass ProBar flowmeter integrates the T-shaped Annubar sensor with the Model 3095 Multivariable transmitter. This flowmeter enables an accurate mass flow output from a single pipe penetration by combining DP, GP, and temperature transmitters, DP flow primary, temperature sensor, manifold, thermowell, hook-up hardware, flow computer, and temperature wiring. The unit arrives pre-assembled, pre-configured, and ready to install. This flowmeter is ideal for gas and steam applications where a compensated flow output is required.

Both Rosemount flowmeters are part of Emerson's PlantWeb® digital plant architecture that delivers asset management, process automation, and management execution. Further cost savings, increased plant availability, and enhanced safety and environmental compliance are achieved when the flowmeters are integrated into the PlantWeb architecture. The Model 485 Annubar product line further enhances Emerson Process Management's flow offering, which includes a complete line of Coriolis, vortex, and magnetic flowmeters.

About Emerson Process Management

Emerson Process Management (www.emersonprocess.com), an Emerson business, is a leader in helping businesses automate their production, processing and distribution in the chemical, oil and gas, refining, pulp and paper, power, food and beverage, pharmaceutical and other industries. A division of Emerson, Rosemount (www.emersonprocess.com/rosemount) is a global leader in the design and manufacture of process instrumentation, including a complete line of pressure, temperature, flow, and level products. Emerson brands include PlantWeb®, Rosemount®, Micro Motion®, Fisher®, DeltaVTM, Ovation®, and AMS.

About Emerson

St. Louis-based Emerson (www.gotoemerson.com) is a global leader in bringing technology and engineering together to provide innovative solutions to customers in process control, electronics and telecommunications, industrial automation, heating, ventilating and air conditioning, and appliance and tools. Sales in fiscal 2001 were $15.5 billion.

Related