FlowCam Macro Imaging System for particles of subvisible sizes.
Press Release Summary: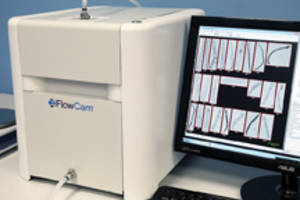 Providing data on particles and microorganisms with sizes ranging from 250 µm to 5 mm, FlowCam Macro Imaging and Analysis System detects and produces sharp digital images. Suitable for analytical scientists, biochemists, pharmaceutical engineers and lab managers, FlowCam provides high-resolution digital image in seconds and analyses in 30 various morphological parameters.
---
Original Press Release:
New FlowCam® Macro Instrumentation Optimized for Particles Sized 250µm – 5mm
Large Particle Capability Complements Subvisible Particle Instruments
The new FlowCam® Macro particle imaging and analysis system from global laboratory instrumentation manufacturer Fluid Imaging Technologies, Scarborough, Maine (www.FluidImaging.com), features the company's patented imaging technology optimized to detect and produce sharp digital images of particles and microorganisms measuring from 250µm to 5 mm in size. Joining FlowCam models optimized for particles ranging from 2µm to 800µm in size, the FlowCam Macro automatically detects thousands of individual particles and microorganisms in a sample in seconds, takes a high-resolution, digital image of each one detected and measures them in real-time based on their actual size and shape using more than 30 different basic and advanced, morphological parameters.
Developed to complement dynamic imaging, laser diffraction, microscopy and other lab instruments that provide data on particles in subvisible sizes, the new FlowCam Macro allows analytical scientists, biochemists, pharmaceutical engineers, lab managers and others to detect and document the presence of larger particles to get a more complete view and understanding of their products. The FlowCam Macro technology is proven in characterizing long and curled fibers, polymers, crystals, powders, microorganisms, and a variety of food, beverage, chemical and pharmaceutical products.
For more information, contact Fluid Imaging Technologies, Inc.; 200 Enterprise Drive, Scarborough, Maine 04074; 207.289.3200.; Fax 207.289.3101; www.fluidimaging.com.
Fluid Imaging Technologies, Inc. manufactures the FlowCam®, a continuous-imaging particle analysis instrumentation system that automatically detects and images microscopic particles in the range of 2µm – 5mm, saving and measuring each image with 30+ discrete parameters. The FlowCam technology differentiates one particle from another for automated identification and classification; much like the human eye can through a microscope. Unlike microscopy, the FlowCam automatically analyzes thousands of particles in seconds.
Cybele Brooks
908.479.4231 - Tel
908.246.8493 - Cell
207.289.3200;
Cybele.Brooks@fluidimaging.com
More from Machinery & Machining Tools