Flow Valves feature double 3/2-way functions.
Press Release Summary: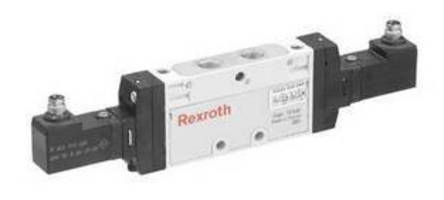 Model TC08 valves measure 16.8 mm wide and offer flow of 600 L/min and TC15 units measure 21 mm wide and provide 1,100 L/min flow. Double 3/2-way functions enable full nominal flow on all valves, even during simultaneous operation, and minimize energy consumption and cycle times. Electrical connections are enabled by DIN 15217 and M8x1 plug connectors. Valves suit wide range of applications/tasks in automation.
---
Original Press Release:

High Performance for Small Areas TC08 and TC15 Valve Series with 2x3/2 Functions



The TC valve series is now also available in a 2x2/3 version.

With new 2x3/2 versions for single valves and valve terminal systems, Rexroth offers even more functions and flexibility for its reliable and proven TC valve series.

The new double 3/2-way functions, with a flow of 600 l/min for the TC08 line and 1100 l/min for the TC15 line, significantly increase the performance and flexibility of the product range. Optimized in terms of flow, each 3/2 function enables the full nominal flow on all valves, even during simultaneous operation.

The 2x3/2 functions further increase performance density, while maintaining a width of 16.8 mm for the TC08 and 21 mm for the TC15. This enables simple, flexible assembly in applications where space is limited. Particularly in the single valve version, the control valve can be brought even closer to the load, which shortens hose lengths. This saves valuable energy and reduces cycle times. In addition to decreasing procurement costs, the integration of two independent 3/2 function in a single valve substantially reduce assembly efforts and thus installation costs.

On the version with the option for block assembly, a TC valve terminal system can be conveniently configured for specific applications online, including expansion stages up to 24 3/2 valve functions. Thus, the TC valve series is particularly suitable for centralized installations - even with several pressure zones.

A broad range of power versions completes the product range. For electrical connections, Rexroth offers the form C connection in accordance with
DIN 15217 as well as the modern M8x1 plug connector which fulfills all requirements for fast, simple installation using standardized installation material.

With this valve terminal system's proven, exceptionally sturdy construction, the TC series from Rexroth provides flexibility, excellent reliability, and a long service life, making it suitable for an extremely wide range of applications and tasks in the area of automation technology. The high availability of the 2x3/2 versions makes it easy to procure all versions of the proven valve series.

Bosch Rexroth AG is one of the world's leading specialists in the field of drive and control technologies. Under the brand name of Rexroth the company supplies more than 500,000 customers with tailored solutions for driving, controlling and moving. Bosch Rexroth is a partner for industrial applications and factory automation, mobile applications and using renewable energies. As The Drive & Control Company, Bosch Rexroth develops, produces and sells components and systems in more than 80 countries. In 2008 Bosch Rexroth AG, part of the Bosch Group, achieved sales of around 5.9 billion Euro with 35,300 employees.

For more information please visit: www.boschrexroth.com

For product specific questions and reader inquiries:

Bosch Rexroth AG

Cordula Krause-Widjaja

Ulmer Strasse 4, 30880 Laatzen

Phone: +49 511 2136-533

Fax: +49 511 2136-429

cordula.krause-widjaja@boschrexroth.de

More from Chemicals & Gases