Flow Tuning and Measurement System offers accuracy to ±1%.
Press Release Summary: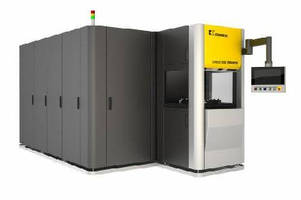 Based on MICROFLOW technology, which monitors flow of abrasive media through small passages in real-time, EXTRUDE HONE™ MF PROGRESS™ is aimed at orifices 100–350 µm in parts less than 30 mm in diameter and flow rates up to 5 lpm. Modular system is available in various inside station layouts, including flow tuning, media reclaim, flush module, test module, and marking. Machine comes with expanded on-screen maintenance capabilities and optimized filtration to further pump and valve life.
---
Original Press Release:

Kennametal, Achieve Flow Tuning Excellence with the New EXTRUDE HONE(TM) MF PROGRESS(TM)



Proprietary MICROFLOW™ technology key to improved quality



New EXTRUDE HONE™ PROGRESS



Fuel system manufacturers seeking the best fuel performance require flexible high-flow grinding and high-flow test capabilities to achieve finely tuned orifices in numerous design variations.



To this end, Kennametal Precision Surface Solutions® is announcing EXTRUDE HONE™ MF PROGRESS™, the next generation of flow tuning and flow measurement featuring a flow targeting accuracy to +/-1% aimed at orifices 100-350 µm in parts less than 30 mm in diameter and flow rates up to 5 L/min. "Additionally, MF PROGRESS delivers another exclusive added value that we call Flexibility Through Modularity," says Sharath Shankaregowda, Kennametal Precision Surface Solutions MICROFLOW product manager. "Customers benefit from a self-contained modular construction for each process (grinding, flush, flow testing, etc.) and configurable hardware (manifolds, frequency drives, etc.)"

.

Customers are saying adding such advanced process options can help ensure components meet ever more stringent government regulations. From CAFÉ in North America, EURO6 and expected EURO7 in Europe, and PRC standards in Asia, all focused on reducing CO2 emissions, EXTRUDE HONE™ MF PROGRESS provides the perfect next step in upgraded manufacturing and finishing. In addition, this all takes place in a 25% reduced machine footprint, 50% less tool wear compared to previous-generation equipment, and depending on the application the output can be increased by up to 100%.



MICROFLOW Explained

• MICROFLOW is the real-time monitored flow of abrasive media through small passages, such as fuel-injector spray holes.

• It achieves specific, repeatable processing results, including edge radius, micro-hole size and surface finish. These changes to small-hole geometry improve part function and performance.

• Media flows in one direction, similar to part operation.

• Increased flow is attributed to subtly changing the geometry of the opening entrance (opening exit usually is not affected).

• MICROFLOW processing involves pressure drop, flow rate, geometry, and fluid properties; machine design and dynamics; workpiece characteristics; media properties and processing procedures.

• Exclusive range of standard and customized MICROFLOW media with specific properties perform a step beyond classical hydro erosive liquid.



EXTRUDE HONE™ MF PROGRESS is available in various inside station layouts: flow tuning, media reclaim, flush module, test module, marking, thanks to the system's modular design and construction. It is easy to configure and easy to fit into modern production lines ready for robotic or other handling system automation. The machine also comes with expanded on-screen maintenance capabilities and improved filtration to further pump and valve life.



Reliability being at the heart of production control requirements, EXTRUDE HONE™ MF PROGRESS provides for online monitoring and control of all relevant parameters. The online feature is also beneficial in delivering remote process demonstrations and gathering resulting data.



For more specific information, contact Kennametal's Precision Surfaces Solutions, AFM MICROFLOW Center of Excellence at: extrudehone.sales@kennametal.com



Comparison Kennametal MICROFLOW versus Hydro Erosive Grinding.

 

Celebrating more than 75 years as an industrial technology leader, Kennametal Inc. delivers productivity to customers seeking peak performance in demanding environments. The company provides innovative wear-resistant products, application engineering and services backed by advanced material science, serving customers in 60 countries across diverse sectors of aerospace, earthworks, energy, industrial production, transportation and infrastructure. With approximately 14,000 employees and nearly $3 billion in sales, the company realizes half of its revenue from outside North America, and 40% globally from innovations introduced in the past five years. Recognized among the "World's Most Ethical Companies" (Ethisphere); "Outstanding Corporate Innovator" (Product Development Management Association); and "America's Safest Companies" (EHS Today) with a focus on 100% safety, Kennametal and its foundation invest in technical education, industrial technologies and material science to deliver the promise of progress and economic prosperity to people everywhere. For more information, visit the company's website at www.kennametal.com.



Kennametal Inc.

1600 Technology Way

PO Box 231

Latrobe, PA 15650-0231

USA

LINDEN Kathy

Phone : 724 539 5698

Fax : 724 539 6766

kathy.linden@kennametal.com



Kennametal Inc.

1600 Technology Way

PO Box 231

Latrobe, PA 15650-0231

USA

GROMOLL Carsten

Phone : +1 724 539 8033

carsten.gromoll@kennametal.com 

More from Architectural & Civil Engineering Products