Flow Transmitter supports up to 14:1 flow turndown.
Press Release Summary: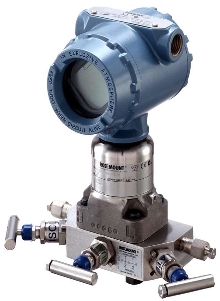 Based on SuperModule® platform, Rosemount® 3051S Ultra for Flow supports scalable performance and up to 14:1 flow turndown with better than 0.5% of reading accuracy. Hermetic, all-welded SST housing meets operating requirements for harsh environments, and Coplanar(TM) process isolators allow sensor to float freely, eliminating effects of installation-induced errors.
---
Original Press Release:

Emerson's Innovative Rosemount 3051S Ultra for Flow Sets New Standard for Performance in Flow Applications


Technology delivers next-generation performance over wide flow turndowns, resulting in lower installation costs and reduced process variability

CHANHASSEN, MN (July 18, 2005) - Emerson Process Management has announced that its technology is again revolutionizing flow metering performance, while reducing process variability and lowering installation costs. Whereas traditional orifice-based DP flowmeters have only been able to maintain accuracy over a narrow 3:1 operating window, Emerson's Rosemount® 3051S Ultra for Flow can support up to 14:1 flow turndown with better than a 0.5% of reading accuracy. Performance with the 3051S Ultra is specified as a percent of reading, instead of the traditional percent of span. This method of specification eliminates the performance degradation inherent in the nonlinear relationship between flow and differential pressure. Because a 10:1 flow turndown results in a 100:1 DP turndown, a DP pressure transmitter specified as 0.075% of span will only be 7.5% accurate over the entire flow range.

Emerson's revolutionary approach is based on its SuperModule® platform, the foundation of the Rosemount 3051S transmitter. To deliver enhanced functionality that supports scalable performance, Emerson uses a unique approach to the design and manufacture of the SuperModule platform that optimizes transmitter performance over wide flow turndowns. The hermetic, all-welded SST housing enables the performance to be maintained in the harshest environments. Coplanar(TM) process isolators allow the sensor to float freely, eliminating the effects of installation-induced errors.

With the 3051S, each transmitter is manufactured according to the performance requirements of its intended application. For flow applications, this results in Ultra for Flow being unsurpassed in performance and capability.

Ultra for Flow technology delivers important user benefits including the following:

o Improved accuracy over wide flow turndowns reduces installation costs. Seasonal temperature variations have traditionally resulted in widely fluctuating flow rates. The wide flow turndown of Ultra for Flow eliminates the need for stacking flow transmitters to compensate for these fluctuations. Users realize better performance and lower installation costs. In addition, the common practice of seasonally changing plates is avoided for additional operations savings.

o Extended stability minimizes maintenance costs due to the lengthening of calibration intervals. A 10-year stability guarantee is standard.

o Better flowmeter accuracy and repeatability enables more accurate control of processes over wider flow ranges.

o Unprecedented reliability. Ultra for Flow is backed by a 12-year warranty.

The 3051S Ultra for Flow is part of Emerson's broad range of intelligent, digital field devices that power the PlantWeb® digital plant architecture to improve plant efficiency by 2% and more through delivering asset optimization, process automation, and management execution. Further cost savings, increased plant availability, and enhanced safety and environmental compliance are achieved when the flowmeters are integrated into the PlantWeb architecture.

About Emerson Process Management

Emerson Process Management (www.emersonprocess.com), an Emerson business, is a leader in helping businesses automate their production, processing and distribution in the chemical, oil and gas, refining, pulp and paper, power, food and beverage, pharmaceutical and other industries. The company combines superior products and technology with industry-specific engineering, consulting, project management and maintenance services. Its brands include PlantWeb®, Rosemount®, Fisher®, Micro Motion®, DeltaV(TM), Ovation®, and AMS(TM )Suite.

About Emerson

Emerson (NYSE: EMR), based in St. Louis, is a global leader in bringing technology and engineering together to provide innovative solutions to customers through its network power, process management, industrial automation, climate technologies, and appliance and tools businesses. Sales in fiscal 2004 were $15.6 billion. For more information, visit www.GoToEmerson.com.

PlantWeb, Rosemount, Micro Motion, Fisher, DeltaV, Ovation, and AMS are marks of Emerson Process Management. All other marks are the property of their respective holders.

Contacts:

Kathy Higgins, Emerson Process Management, Rosemount
1 (952) 949-5165, [email protected]

Peter Dossing, Emerson Process Management
1 (512) 832-3162, [email protected]