Flow Sensors target solar and geothermal systems.
Press Release Summary: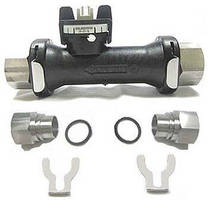 Operating on principle of Kármán's vortex trail, DN Series Liquid Vortex Flow Sensors are suitable for flow ranges from 0.24-39.6 gpm and offer accuracy to 1% FS of measured value. Versions with 1,000 W RTD temperature sensor built-in to bluff are available, providing direct temperature measurement in medium to facilitate documentation of energy transfer in water and water glycol based heat exchange systems.
---
Original Press Release:

New Flow Sensor Ideal For Solar and Geothermal Systems



Hudson, MA-Clark Solutions announces the availability of a new family of liquid vortex flow sensors ideal for in solar and geothermal hot water systems and equipment. Combining both high accuracy and low cost, DN Series Flow Sensors are accurate to 1% fs of measured value and are available for less than $100 in quantity. DN Series Liquid Vortex Flow Sensors also provide direct temperature measurement to facilitate documentation of energy transfer in water & water glycol based heat exchange systems.

DN Series Flow Sensors are suitable for flow ranges from 0.9 to 150 liters per minute (0.24 to 39.6 GPM) and operate on the principle of Kármán's vortex trail. Named after Theodore von Kármán's mathematical description of the phenomenon, vortex-shedding flow meters present the flow in a pipe with an obstruction/bluff in the flow meter body. As velocity increases, alternating vortices are formed on each side of the bluff body and travel downstream. DN series flow sensors utilize piezoelectric sensors embedded in an ETFE vane located downstream of the bluff to detect the generated vortices. The frequency measured represents the flow velocity. The result is a temperature insensitive measurement of flow with minimal pressure loss. A flow factor is provided to convert frequency to volume flow rate for each model size. Versions with a 1000 Ohm RTD temperature sensor built-in to the bluff are available, providing direct temperature measurement in the medium.

Clark Solutions has a fifty-year history of providing unique solutions to the measurement, control, and monitoring of flow, pressure, and level in liquids and gases. Located in Hudson, Massachusetts, the company offers instrumentation devices to record, monitor, and control flow, velocity, pressure, temperature, humidity, level, gas concentration, and other properties. Clark Solutions also provides a wide range of pumps for liquids, gases, and air, including diaphragm pumps, piston pumps, rotary vane pumps, gear pumps, peristaltic pumps, impeller pumps, centrifugal pumps, and bellows pumps. Valve offerings include inert isolation valves, solenoid operated valves, valve actuators, pinch valves, manifold valves, ball valves, globe valves, butterfly valves, needle valves, and miniature and subminiature valves.

For more information, contact Clark Solutions, 10 Brent Drive, Hudson, MA 01749, Tel. 978-568-3400, Fax 978-568-0060, email sales@clarksol.com, or visit our web site at www.clarksol.com.

Web Page: www.clarksol.com/html/dn_series_inst.cfm

Image: www.clarksol.com/images/DN.jpg

More from Sensors, Monitors & Transducers