Material Handling and Storage Racks
Flow Rack incorporates ergonomic design.
Press Release Summary: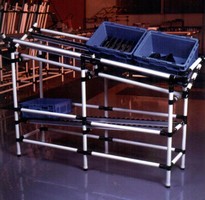 Developed using Creform® System of pipes and joints, compound angle flow rack is suitable for workstations, assembly points, loading posts, kitting locations, and other point-of-use part offloading locales. Flow rack's conveyor surface is sloped lengthwise from load to work area end for gravity fed container flow and second angle leans it toward user for tote presenting. Design can incorporate empty container return lane.
---
Original Press Release:
Creform® Compound Angle Flow Rack Presents Parts Ergonomically
Creform® Corporation has developed a structure using the Creform® System of pipes and joints that incorporates an ergonomic design to make material handling and piece work retrieval efficient with less fatigue and strain. The innovative product concept is a compound angle flow rack ideal for use at workstations, assembly points, machine loading posts, kitting locations and other point-of-use part offloading locales. First, like conventional flow rack designs, the conveyor surface is sloped lengthwise from the load end to work area end for gravity fed container flow. In addition, a second angle cants the conveyor surface toward the associate for ergonomic tote presenting as well as to naturally flow loose parts to the lower front corner of the container for a consistent picking location. Compound angle flow racks position components close to workers at appropriate heights helping to reduce repetitive bending and overreaching motions that can lead to strains and injuries while providing ample inventory storage space to keep containers off the production floor, making work areas safer and better organized. Unit designs can incorporate an empty container return lane. For ease of construction, the Creform system consists of pipe sections that are cut to required lengths with either a manual or powered pipe cutter, or band saw. For assembly, the system utilizes either metal joints that tighten onto pipe sections via a threaded fastener, or plastic joints that are secured to the pipes with adhesive. If part needs change or operations are modified, the use of metal joints allows stands to be disassembled and reconfigured using most of the existing components, thus saving costs. Using plastic joints makes a structure permanent at a lower cost than metal joints. A wide array of hardware accessories provides solutions for specific functions.. flat-surface channel sections, roller conveyor sections, hinges and latches, clamps and mounts, springs, tool holders, and more. Importantly, two styles of conveyor sections are available to best suit the application. If containers to be used on the compound angle flow racks have a uniform bottom surface and are relatively rigid, 'skatewheel' style conveyor units can be used-for applications where surfaces are irregular or the container is softer corrugated or box board material then full width roller type conveyor sections may be needed to provide a wider area of support. Other construction options include using stabilizing feet or casters to make the units easily maneuverable. ESD-rated components can be used to protect sensitive electronic apparatus from the build up and discharge of static electricity. For harsh work environments where chemical or corrosion resistance is required, racks constructed from stainless steel pipe and joints are available from Creform as prefabricated kits or assembled units. Other representative examples of material handling structures built using the Creform System include single angle flow racks; part presentation stands; push carts and trailers; roller conveyors; tilting racks and tables; height adjustable work tables and workstations; portable tool cribs and Automated Guided Carts for efficient automated material delivery. In addition to providing Creform System components, the Creform Corporation also offers design and assembly services for the virtually infinite number of structures and applications possible... and partners with many of its customers in developing, implementing, maintaining and expanding their lean manufacturing programs. Visit crefonn.com for additional information regarding Creform Corporation, its products and applications.
More from Materials