Flow Monitoring System protects critical equipment.
Press Release Summary: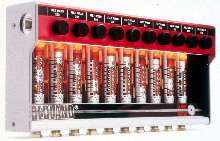 Compact LUBE-VIEW monitors 1-24 lubrication lines to assure constant flow of lubrication oil to critical components to protect equipment from damage and unscheduled downtime. Each line is monitored by separate flow meter featuring piston indicator and high-visibility spinner indicator. Each line is also equipped with thumbwheel to adjust flow to match operating conditions. Product is constructed of extruded aluminum manifold and 6 in., polysulfone flow tube bodies.
---
Original Press Release:

LUBE-VIEW® System Protects Critical Equipment


The LUBE-VIEW Flow Monitoring System from Hedland is specifically designed to protect equipment from damage and costly unscheduled downtime. As machines are being run faster, and under increasingly heavy loads, flow monitoring is critical to assure constant flow of lubrication oil to critical components. According to Hedland, users experience lower bearing maintenance cost, less downtime and extended bearing life. The company's new LUBE-VIEW catalog highlights all the product features and configurations.

The LUBE-VIEW System provides accurate monitoring of from one to 24 lubrication lines in a compact, easy-to-install unit. Each line is monitored by a separate flow meter featuring both a piston indicator and a high visibility spinner indicator for maximum reliability and ease of use. The piston indicator provides an accurate reading of flow rate on a numerical flow scale on the body of the meter. The secondary spinner indicator at the top of the meter provides a quick visual indication of flow.

Each line in the system is equipped with a large diameter thumbwheel to adjust the flow to match operating conditions. At start-up, for example, components move at slower speeds and cooler temperatures. At this stage a lower flow rate prevents spills and flooding of bearings and lubrication points. At normal "full run" speed lubricant temperature increases and full flow is required to dissipate heat and avoid deterioration of the oil.

The LUBE-VIEW flow monitor is constructed of a rugged extruded aluminum manifold and easy-to-read, 6-inch, high-strength polysulfone flow tube bodies. It can be installed in any position without affecting accuracy, and no flow straighteners or extra straight piping is required.

Hedland Flow Meters, a division of Racine Federated, Inc. is a leading manufacturer of process flow technology. Its product line includes flow meters for petroleum, water and other liquids, and air and other compressed gases to match virtually any pressure and temperature requirements. Flow-Alert flow switches and flow transmitters are also available. Complete information about the LUBE-VIEW System and other Hedland products is available from the company at 1-800-HEDLAND (433-5263).

More from Communication Systems & Equipment