Flow Meter offers fast response time.
Press Release Summary: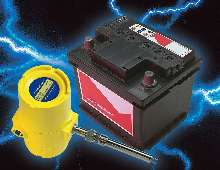 FlexMASSter® ST98F Series responds to changing media flow rates in 6 seconds or less. With thermal mass-sensing flow element and flex-circuitry design, ST98F offers accuracy of ±1% of reading plus ±0.5% of Full Scale. Flow meter has repeatability of ±0.5% of reading and flow range from 2 to 3183 scfm in air at 70 °F and 14.7 psia, typical to most gases. It offers low-flow sensitivity to 0.25 sfps and operates with turndown ratios from 10:1 to 100:1.
---
Original Press Release:

New FlexMASSter® ST98F Flowmeter Series Offers Fast Response Time


Ideal For Oil/Gas, Chemical, Pharmaceutical, Wastewater Applications

Chicago, IL-October 21, 2002--Process engineers who need accurate gas flow measurement to support highly dynamic process conditions will find the new thermal mass FlexMASSter® ST98F Flowmeter Series from FCI now responds to changing media flow rates in six seconds or less.

With its precision thermal mass sensing flow element and advanced flex circuitry design, the ST98F Flowmeter supports a wide range of critical process applications in oil/gas, chemical, food/beverage, pharmaceutical, power generation, wastewater and more. The ST98F offers high accuracy, superior repeatability and now high-speed response in rugged plant environments.

Flowmeter response time is a function of gas flow rate. Featuring a flow measurement time constant of six seconds or less helps the ST98F Flowmeter improve process batch control and safety where hazardous conditions exist. Typical applications include: air jet measurement and control for automated sorting, anti-surge protection and gas flow control within a coating process.

The ST98F flowmeter's advanced thermal mass sensing element delivers precision measurement over a wide flow range. It features an accuracy of ±1% of reading plus ±0.5% of full scale. Highly consistent, the ST98 has a repeatability of ±0.5% of reading. Exceptionally versatile, the ST98 features a broad flow range from 2.0 to 3183 SCFM [3.4 to 5409 NCMH in air at standard conditions for 70°F [21.2°C and 14.7 psia [1.01324 bar (a), typical to most gases. The ST98 offers low-flow sensitivity to 0.25 SFPS, yet is able to operate from 10:1 to 100:1 turndown ratio.

The ST98's thermal mass sensing element is comprised of two all-welded 316L stainless steel thermowells that protect two matched platinum precision resistance temperature detectors (RTDs). With a highly reliable no-moving parts design, one RTD is heated relative to the reference RTD, and the temperature difference between the two is related to the process gas mass flow rate.

The ST98's transmitter converts the differential temperature to a standard 4-20 mA output signal that has been linearized during the FCI factory NIST traceable calibration of the flow element. The transmitter with its RS232 communications port is housed in a NEMA Type 4, Type 4X or explosion-proof enclosure and can be integrally mounted to the flow element or remotely mounted up to 500 feet away. In addition, HART bus communications and an LCD display screen indicating flow rate and totalized flow are available as options.

The ST98F flowmeter meets ASME, BPE, Cenelec and CE Mark requirements. Factory Mutual, CSA and CRN approvals are pending. FCI is ISO9001 certified.

Fluid Components Intl is a global company committed to meeting the needs of its customers through innovative solutions to the most challenging requirements for sensing, measuring and controlling air, gas, liquid, flow, level and temperature.

For more information contact:

Sean Faustina
RB Marketing Communications
Email: faustinas@rbmarketing.com
Tel: 909-683-3740, Ext 4#

More from Computer Hardware & Peripherals