Flow Chemistry System fosters automated process optimization.
Press Release Summary: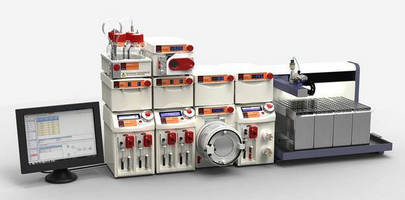 Modular Asia 330 automatically collects and analyzes adjustable factors such as reaction time, temperature, and reagent ratio. Also, automatic control of syringe pumps, injection reagents, synthesis, and waste diversion enable hundreds of solutions or phase experiments to occur. While included FLLEX module for flow aqueous work-up, Asia Sampler and Dilutor allow integration of analytical devices. Supplied with multifunctional Asia Master PC software, system produces 1 µg to 1 kg of product.
---
Original Press Release:

Ultimate Flow Chemistry System for Fully Automated Process Optimisation



Syrris' Asia 330 laboratory reactor integrates synthesis, work-up and analysis

Royston, UK - Leading chemistry automation product innovator, Syrris provides the modular Asia flow chemistry systems, for the widest variety of chemical reactions and ultimate ease of use. The portfolio includes the Asia 330, an ideal system for chemists requiring the highest quality and functionality available.

As an advanced integrated flow chemistry system, the Asia 330 provides walk away capabilities. Factors such as reaction time, temperature and reagent ratio can be varied and each reaction is collected and analysed automatically. Furthermore, the automatic control of syringe pumps, injection reagents, synthesis and waste diversion enable hundreds of solutions or phase experiments to occur.

As the ultimate integrated flow chemistry system, the Asia 330 expands on the capabilities offered by other Asia systems by including the FLLEX module for flow aqueous work-up and the Asia Sampler and Dilutor, which allows integration of analytical devices such as liquid chromatography mass spectrometers (LCMS).

The easy to use Asia Master PC software allows 1000s of system configurations, single or multi step reactions, graphical display of data and full data logging.

The Asia modular flow chemistry systems
The new Asia range of flow chemistry reactors incorporates maximum chemical resistance with wide temperature (-15 to 250 °C) and pressure (0-20 bar) ranges. The systems are easy-to-use, with fast reaction times and the ability to produce anywhere from a microgram to a kilogram of product. The Asia systems are built from flexible modules, which can be purchased separately and then arranged in any fashion to add new functionalities to an existing platform. This means that as a user's synthesis requirements change, an Asia flow chemistry system can adapt to meet this need.

For detailed product information on the Asia, as well as the complete Syrris product offering please visit www.syrris.com.

Syrris Limited
Established in 2001, Syrris Limited is one of the fastest growing science SMEs in the UK employing over 30 scientists and engineers at its facility in Royston (near Cambridge). With offices in the US, Japan, India and Brazil plus over 30 distributors worldwide, Syrris is world renown for excellence in chemical reactor systems.

Syrris develops laboratory automation products for chemists such as the Atlas automated chemistry systems. Atlas can be configured into a wide range of different systems for controlling round bottom flasks (magnetically and overhead stirred respectively) and jacketed reactors. Atlas systems are designed for applications including reaction calorimetry, volumetric dosing, gravimetric dosing, pH, etc.

Syrris also specialise in flow reactors for R&D chemists, including Asia and Africa, modular systems for chemical synthesis, aqueous work-up and reaction optimization. These systems offer faster, cleaner and safer reactions that will ultimately reduce the time taken to develop, synthesize, and review a chemical entity.

In recognition of its technological achievements, Syrris has been awarded a prestigious UK DTI SMART Exceptional Grant and was awarded the "Eastern Region's UKTI Best Established Exporter" and the "Most Outstanding Export Achievement" at the Global Opportunity Conference on International Trade. Syrris has also won a significant DTi MNT (Micro and Nano Technology) award which has been used to establish a subsidiary called The Dolomite Centre Ltd. This company is focused on design and fabrication of Microfluidic devices for a wide range of applications.

More from HVAC