Flow Calibration Tubes calibrate liquids in less than 2 min.
Press Release Summary: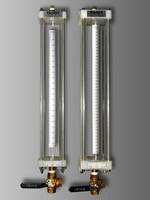 Available in ½, 2, and 4 liter models, Palmer Flow Calibration Tubes provide accurate, non-contact calibration of any liquid level, while in-process, eliminating need for scales, buckets, and gloves in calibration. Units include heavy-duty sight glass gauge and are compatible with wide variety of materials.
---
Original Press Release:

Palmer Manufacturing & Supply, Inc., Introduces Flow Calibration Tubes



SPRINGFIELD, OH - Palmer Manufacturing & Supply, Inc., has introduced the latest in high efficiency calibration tube technology with new Palmer Flow Calibration Tubes for quick, accurate and non-contact calibration of any liquid level, while in-process.

The new Palmer Flow Calibration tubes are highly accurate, safe, and cost effective as well as efficient as they eliminate the need for scales, buckets, and gloves in calibration. Additionally, liquids can be calibrated with just one operator in less than two minutes.

Significant Features:

o Eliminate waste - lower costs (zero loss system)

o Precise liquid-flow accuracy

o No operator contact with materials

o No more mess

o Extremely accurate

o Heavy duty sight glass gauge - easily cleaned

o Available in ½ liter, 2-liter and 4-liter

o Compatible with a wide variety of materials

"The Palmer Calibration Tube was designed to reduce labor costs, as calibration can easily be performed during production; eliminating lost production time due to calibration," said Jack Palmer, President of Palmer Manufacturing & Supply. "This precise and repeatable flow calibration system is by far the easiest and therefore quickest of all to calibrate," he added.

About Palmer Manufacturing and Supply, Inc.

Since 1968, Palmer Manufacturing has specialized in the production and engineering of a wide variety of heavy-duty equipment including: sand mixers, molding systems and components, core room equipment, shake-out reclamation & knock-out equipment, mold handlers, bulk storage and handling equipment, pumping systems, resin heating systems, sand conditioning, compaction tables, mold and core coating equipment., as well as complete systems and engineering services.

Palmer is a global company with sales, service and support to USA, Mexico, Canada, Australia and Europe.

Company Contact:

Jack Palmer

sales@palmermfg.com

More from Thermal & Heating Equipment