Flow Blast System suits single-piece flow production.
Press Release Summary: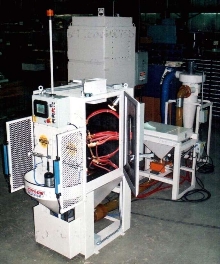 Designed for impact treatment operations that require 360° coverage of components, RXS-400 rotary indexing spindle-blast machine incorporates touch-screen HMI, rotary table mounted on 180° cam indexer, and 2 rotary spindles. Inside 30 in. wide x 36 in. deep cabinet, spindle is rotated at controlled speed and component is exposed to blast from multiple nozzles adjustably bracketed at correct angles on programmable ball screw and ball nut linear traverse.
---
Original Press Release:

1-Piece Flow Blast System


January 18, 2005 - Saratoga Springs, NY - Guyson Corporation has developed a new model rotary indexing spindle-blast machine for shot peening, descaling, deburring, finishing, surface preparation and other impact treatment operations that require 360-degree coverage of components. The down-sized Model RXS-400 is claimed to be especially suitable for single-piece flow production.

The rigidly welded chassis of the RXS-400 cabinet is 30 inches wide and 36 inches deep, so the automatic blast cabinet presents a narrow profile for tight work cell layouts. The system's rotary table is mounted on a precision 180-degree cam indexer and has two rotary spindles to which components are fixtured. Loading and unloading of components can be done during the blasting cycle. Hinged doors actuated by pneumatic cylinders tightly seal the processing chamber after each index of the table.

Inside the cabinet, the spindle is rotated at controlled speed, and the component is exposed to blast from multiple nozzles that are adjustably bracketed at the correct angles on a programmable ball screw and ball nut linear traverse. Spindle speed, traverse speed and stroke and other process parameters can be quickly adjusted with a few finger strokes at the touch-screen control panel.

The RXS-400's touch-screen human-machine interface (HMI) simplifies selection or entry of dimensional and process data by graphically representing system functions on multiple displays configured by a controls engineer. It also allows the machinery designer to provide visual prompts and text instructions to guide the operator, including explanation of sensor-triggered system faults and corrective actions. An additional benefit of the touchscreen HMI is improved reliability due to the elimination of numerous buttons, switches, readouts and other wearable electrical or electronic components.

The automatic blast machine installation is completed by a tunable cyclone media reclaimer that separates process dust from re-useable shot or grit coupled to an efficient cartridge-type dust collector of suitable capacity for the number of blast guns. Optionally available is a media storage hopper linked through the system's programmable logic controller (PLC) to level sensors that initiate the automatic addition of fresh media to the system and signal when the media supply hopper needs to be replenished, well in advance of the point when a low media condition could cause variation in the blast process.

Prospective users of the RXS-400 system are encouraged to submit sample components for free laboratory testing and application engineering evaluation at the supplier's factory in northeastern New York State.

CONTACT FOR MORE DATA:
J. C. Carson
518-587-7894
jccarson@guyson.com

More from Laboratory and Research Supplies and Equipment