FloroPoxy MVT-24 Primer is tested under ASTM F1869 standards.
Press Release Summary: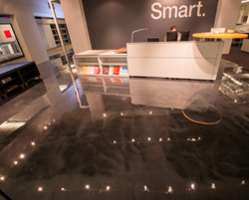 FloroPoxy MVT-24 Primer is applied at thickness of 23 mils. Offering protection against damage, the primer provides a moisture vapor transmission of up to 24000 lb/1000 sq-ft/24 hrs. The product can be directly applied to prepared concrete substrate with thin film application.
---
Original Press Release:
New FloroPoxy MVT-24 Primer from Florock® Polymer Flooring Increases Protection Against Moisture Vapor Transmission
Florock® Polymer Flooring has launched new FloroPoxy MVT-24 Primer, an innovative, thin film solution for moderate to high rates of Moisture Vapor Transmission (MVT) in concrete floors.
Florock® Polymer Flooring, manufacturer of concrete floor coating systems for industrial, commercial and institutional facilities, and headquartered in Chicago since 1952, has launched new FloroPoxy MVT-24 Primer, an industry-leading, thin mil solution for high levels of Moisture Vapor Transmission (MVT) in concrete floors. Applied at a maximum thickness of just 23 mils, FloroPoxy MVT-24 safeguards flooring against damage from moisture vapor transmission of up to 24 pounds/1,000 square feet/24 hours, as tested under ASTM F1869 — more than twice as much MVT protection as many competitors' products.
MVT is a phenomenon brought about by the presence of undesirably high levels of moisture underneath or within a concrete slab, which can develop as a result of a variety of site conditions or other potential causes. Regardless of origin, in the presence of high moisture levels, capillary action forces moisture and moisture vapor upward through the slab, until it reaches the flooring system at the top. Here it condenses into an alkaline liquid that can accumulate, destroying the bond between the flooring and the concrete, as well as damaging the floor material itself, whether comprised of wood, laminate, VCT/LVT, carpet, epoxy or other materials.
Luckily, FloroPoxy MVT-24 can be applied directly to a prepared concrete substrate under any of these traffic surfaces, offering the flooring industry as a whole an exceptional level of MVT protection in a thinner film application, minimizing design concerns at thresholds and doorways. In addition, the new coating serves as a high performance primer under other Florock resinous flooring systems.
"Moisture Vapor Transmission can wreak havoc on floors of all types, resulting in costly repairs, even mold and other types of remediation," advises Tom Lux, Florock Technical Service Director. "Previously, the proven preventative measures for very high levels of MVT often involved quarter-inch (250 mils) thick underlayments. With new FloroPoxy MVT-24, we can now offer our customers more convenient and economical thin mil protection for MVT up to 24 pounds."
FloroPoxy MVT-24 Primer for higher rates of MVT and original FloroPoxy MVT Primer for levels up to 8 pounds offer targeted, high value solutions and peace-of-mind. Installation contractors and facility owners can breathe easy in the knowledge that their Florock High Performance Floor is protected from MVT damage.
Florock professionals are available throughout the Americas, the United Kingdom, and other locations around the globe. See our website http://www.florock.net/ or call 1-800-FLOROCK (356-7625) or +1-773-376-7132 to connect with a consultant near you.
ABOUT FLOROCK, MANUFACTURED IN THE U.S.A. -- Florock has been a leader in the manufacture, research and development, and installation of solutions-oriented concrete floor coatings and toppings since 1952. Headquartered in Chicago, Illinois, with a U.S. West Coast location, and professionals throughout the Americas and the UK, Florock Polymer Flooring is now one the most complete resinous flooring lines available, offering full support from design through construction -- and beyond. Please visit florock.net for more information.
More from Laboratory and Research Supplies and Equipment