Flood Lamps cure UV adhesives and coatings.
Press Release Summary: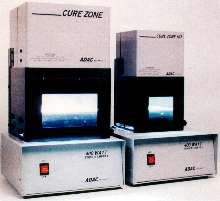 Ultraviolet CURE ZONE 2 and CURE ZONE HO2 are equipped with shielded, hinged access doors and height adjustable, replaceable work surfaces and provide complete viewing of curing process. With 11 x 10 in. footprint, CURE ZONE HO2 models have 5 x 5 in. curing area and emit 120 mW/cm² of curing power, while CURE ZONE 2 models have 8 x 8 in. curing area and emit 80 mW/cm². Systems are capable of curing most UV adhesives between surfaces from 1-5 sec.
---
Original Press Release:

New UV Flood Systems Make UV Curing Easier and More Efficient


High efficiency is the hallmark of the new ADAC Systems(TM) CURE ZONE 2 and CURE ZONE HO2 UV flood lamp systems. These durable lamps are low maintenance, easy to use for both lab evaluation and bench top assembly and come with a two-year warranty. They can be used in manual applications or mounted for automated processes. ADAC CURE ZONE 2 and CURE ZONE HO2 systems are perfect for large assembly applications or batch processing of smaller parts.

These new flood lamps from ADAC Systems are equipped with shielded, hinged access doors to maximize safety and enhance ease of use for curing UV adhesives and coatings. Both units are equipped with height adjustable, replaceable work surfaces for better ergonomics and curing flexibility. The reflector housing and shielding of both models sit atop the power supply creating a compact 11" x 10" footprint.

The CURE ZONE HO2 has an 5" x 5" curing area, emits 120 mW/cm² of curing power, and is ideal for rapidly curing UV adhesives, coatings and potting materials. The CURE ZONE 2 has an 8" x 8" curing area, emits 80 mW/cm² and provides cooler cures for sensitive substrates, and accommodates larger sized parts. It is ideal for curing adhesive between mating glass and plastic parts.

ADAC CURE ZONE systems allow complete viewing of the curing process and are designed to be height adjustable to accommodate variations in part size. The moderate intensity light sources are capable of curing most UV adhesives between surfaces from 1-5 seconds. Coatings aid potting to 1/4" may require from 10 to 40 seconds to cure depending on the light source and formulation chosen.

ADAC Systems is a technology-based subsidiary of DYMAX Corporation, specializing in the manufacture and service of advanced adhesive curing systems.

For more information, contact ADAC Systems, 51 Greenwoods Road, Torrington, CT 06790; Phone: 860-482-1010; Fax: 860-496-0608; Toll Free: 1-877-396-2988; e-mail: info@dymax.com, or down load the .pdf version from our website at www.uv-curing-lamps.com

More from Paints & Coatings