Float-Free Level Control targets pressure-powered pumps.
Press Release Summary: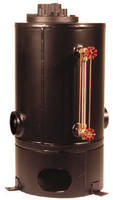 Designed to retrofit major float-operated pump brands, Float-Free Level Control Assembly features drop-in, bolt-on mounting flange to facilitate upgrade. Unit incorporates 2-probe level control and NEMA classified control assembly. External to tank, motive pressure 3-way valve enables visual check of operation. Assembly has no moving parts in contact with condensate, and no springs, linkage, or floats that are prone to wear and failure.
---
Original Press Release:

Kadant Johnson Expands Pressure-Powered Pump Line to Include Drop-in Replacement Float-Free Level Control



Three Rivers, Mich., - Kadant Johnson Inc., a subsidiary of Kadant Inc. (NYSE:KAI), expanded its Liqui-Mover® pressure-powered pump line to include a replacement float-free level control assembly. With the replacement float-free level control assembly, major float-operated pump brands can now be converted to a float-free assembly providing a reliable and cost effective solution for high maintenance pressure-powered pumps. The replacement float-free level control assembly has no moving parts in contact with the condensate, and no springs, linkage, or floats that are prone to wear and failure.

Designed to retrofit major float-operated pump brands, the float-free assembly features a drop-in, bolt-on mounting flange creating a fast and easy upgrade. The motive pressure 3-way valve is external to the tank for quick visual check of the operation. A 2-probe level control and a NEMA classified control assembly are also incorporated into the float-free level control.

The Liqui-Mover pressure-powered pump, first introduced in 1934, has no motors, starters, shafts, rotating mechanical seals, or impellers. Instead, the pump uses steam or compressed air as the motive pressure to lift or pump high-temperature condensate. All configurations of the Liqui-Mover pump line may reduce or eliminate the loss of flash steam and the associated heat energy, making these units efficient and reliable.

Kadant Johnson Inc., based in Three Rivers, Michigan, is a leading provider of rotary joints, precision unions, and fluid handling systems to process industries, where they optimize heat transfer in rotating cylinders and integrate fluid handling systems.

Kadant is a leading supplier to the global pulp and paper industry. Our stock-preparation, fluid-handling, doctoring, and water-management equipment and systems are designed to increase efficiency and improve quality in pulp and paper production. Many of our products, particularly in our fluid-handling product line, are also used to optimize production in other process industries. In addition, we produce granules from papermaking byproducts for agricultural and lawn and garden applications. Kadant is based in Westford, Massachusetts, with revenues of $270 million in 2010 and 1,600 employees in 16 countries worldwide. For more information, visit www.kadant.com.

Danielle Rohrer

Marketing Manager

Kadant Johnson Inc.

805 Wood St.

Three Rivers, MI 49093 USA

Tel: +1-269-278-1715

Fax: +1-269-273-2230

Email: danielle.rohrer@kadant.com

Web: www.kadant.com

More from Architectural & Civil Engineering Products