Gear, Equipment and Utility Bags
FliteDeck Pro Electronic Flight Bag 3.0/9.0 features smart notes.
Press Release Summary: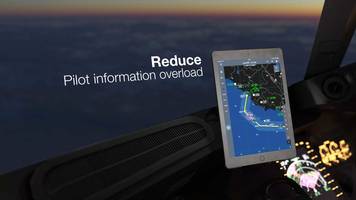 Providing navigation and situational awareness capabilities, FliteDeck Pro Electronic Flight Bag 3.0/9.0 is available for airlines and large-scale operators. Featuring tailored enroute and airport moving map capabilities, unit's smart note analyzes chronological and geospatial flight data. Suitable for business jet operators and military fleet programs applications, product comes with optional chart and navigation backup services.
---
Original Press Release:
New Smart Notes And Situational Awareness Tools Enhance Jeppesen FliteDeck Pro For Operators
Data-driven EFB improvements to increase operational efficiency
Jeppesen, a Boeing Company, now offers operators dynamic new features and functionality within its industry-leading FliteDeck Pro electronic flight bag (EFB) solution. Available for airlines and large-scale operators, the new version of FliteDeck Pro now provides enhanced navigation and situational awareness capabilities to simplify preparation and in-flight procedures.
The latest enhancements to FliteDeck Pro include the addition of Smart Notes, which analyze chronological and geospatial flight data to present key data points for pilots automatically, without the need for manual interaction. New Tailored Enroute capabilities allow operators to depict Jeppesen's data-driven enroute data, supplemented with their own operationally-specific information, to provide a complete enroute navigation picture.
"The introduction of Jeppesen FliteDeck Pro 3.0/9.0 continues the digital transformation of flight operations, as we add exiting new features to further integrate intelligent information with our EFB platforms," said Tim Huegel, director, Jeppesen Flight Deck Solutions. "The addition of Smart Notes, Tailored Enroute and Airport Moving Map capabilities now offer flight crews with the most accurate information in the industry, to increase situational awareness and efficiency in today's complex airspace environment, all backed by our renowned 24/7 global customer support."
New Airport Moving Map functions now adds aircraft ownship positioning to Jeppesen terminal charts, providing enhanced airport situational awareness on the ground. Dynamic chart rendering of runways, taxiways and other airport structures improves runway safety, particularly during times of high congestion or poor visibility.
Additionally, Jeppesen Trip Kit On-Demand services provides peace of mind for operators, with chart and navigation backup services from the cloud and printable PDF copies of charts available to ensure operational continuity and reduce delays.
Overall, Jeppesen FliteDeck Pro helps streamline the use of navigational information for airlines, fractional business jet operators and military fleet programs. Jeppesen FliteDeck Pro also enables significant weight savings and reduced fuel consumption with removal of paper content from the operation. In addition to highly compressed and vector-based Jeppesen terminal charts, FliteDeck Pro includes data-driven navigation content, which is dynamically rendered and de-cluttered for the pilot's current needs.
Enhanced navigation information is now also included with the new Tailored Enroute feature, including aircraft-specific data, frequencies, track information, grid MORAs and ETOPS rings, for additional clarity.
Looking ahead, a next-generation version of FliteDeck Pro is planned for introduction in early 2018 that will include development with ForeFlight, through a recently announced long-term strategic alliance.
For more information about Jeppesen FliteDeck Pro, including the new release for iPad, please visit www.jeppesen.com/efb-FliteDeckPro.
About Jeppesen
For 80 years, Jeppesen has made it possible for pilots and their passengers to safely and efficiently reach their destinations. Today, this pioneering spirit continues as Jeppesen delivers transformative information and optimization solutions to improve the efficiency of air and sea operations around the globe. Jeppesen is a Boeing subsidiary and part of the Digital Aviation business unit within Boeing Commercial Aviation Services. Boeing offers the industry's largest portfolio of services, support and solutions, collectively known as the Boeing Edge, providing customers a competitive advantage by solving real operational problems, enabling better decisions, maximizing efficiency and improving environmental performance – intelligent information solutions across the entire aviation ecosystem.
Contact:
Brian Rantala
Phone: +1-303-328-4370
Email: brian.rantala@jeppesen.com
More from Fluid & Gas Flow Equipment