Flextech Exhibiting at the Shot Show Supplier Showcase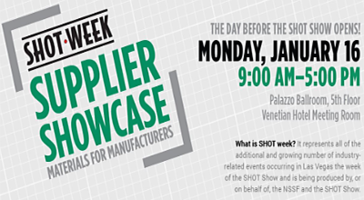 Flextech, Inc. is pleased to announce that we will be exhibiting our foam lamination and molding capabilities at the Shot Show - Supplier Showcase on Monday, January 16, 2017. This is a new event at Shot Show. It allows suppliers to the industry to showcase their products and services to the exhibitors at the Shot Show. The showcase is an ideal way for manufacturer owners, sourcing specialists, engineers, purchasing agents and R& D specialists to meet face-to-face with potential suppliers. Should you be attending the Shot Show, we extend an invitation to stop by our booth # S1935 in the Palazzo Ballroom, 5th Floor Venetian Hotel Meeting Rooms on Monday, January 16, 2017. The Showcase is open from 9:00 a.m. - 5:00 p.m.
Here is a link with more information: http://www.shotshow.org/supplier-showcase/
Please note that the Supplier Showcase is held on Monday, January 16th, the day before the Shot Show begins.
We look forward to a chance to meet with you at the Supplier Showcase or at some point during the show itself.
Please direct any inquiries to:
Chris Stewart
Technical Sales at Flextech, Inc.
7300 W 27th St,
St. Louis Park, MN 55426
952-345-0012
url: http://www.flextechfoam.com
More from Electronic Components & Devices