Flexible Transparent Heaters feature thin film design.
Press Release Summary: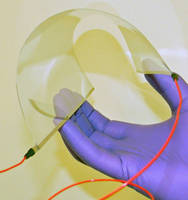 Therma Klear Flex(TM) series heaters provide warmth needed for LCDs to operate in temperatures down to 0 to -40°C and for anti-fog, anti-icing, and de-icing of optics, sensors, and display assemblies. Products are constructed with single or multiple-layer conductive coatings with resistance from 5-200 W², which are applied to flexible optical-grade polyester. Typically 0.007 in. thick, units are available in sizes up to 24 in. diagonal. Recommended power settings are from 0.1-1.0 W/sq in.
---
Original Press Release:

Dontech Introduces Therma Klear Flex(TM) Flexible Transparent Heaters for Temperature Control of Optical, Lens, and Display Assemblies



Doylestown, PA - Dontech has introduced the Therma Klear Flex(TM) series of thin flexible transparent heaters for use in outdoor, military or avionic applications. Therma Klear Flex(TM) transparent heaters provide the warmth necessary to extend the operating temperature of liquid crystal displays (LCDs) in cold environments (0° to below -40°C) and for anti-fog, anti-icing, and de-icing of optics, sensors and display assemblies. Applications include avionics displays, vehicle displays, mobile computers, kiosks, and handheld devices. Custom sizes are available up to a 24 inch diagonal. Heaters can be supplied with an optical grade pressure sensitive adhesive for optical coupling purposes.

Dontech will be exhibiting at SPIE Defense, Security & Sensing, April 26-28, 2011, Orlando, FL, Booth 3206.

Therma Klear Flex(TM) heaters are constructed utilizing Dontech's VCF Series(TM) visually transparent conductive coatings applied to flexible optical grade polyester. Custom substrates are available. The conductive coatings are single or multiple-layer, thin film deposited coatings with a resistance from 5 to 200 ohms/sq. When an electrical current flows through the coating, the filter will generate heat. The heaters are typically 0.007" in thickness, require very little room and are easily integrated into most mechanical footprints. With dielectric enhancements, light transmission of Therma Klear Flex(TM) heaters can exceed 90%, allowing for minimal degradation to the optical performance of the assembly.

Dontech's proprietary lead wire attachment method is exceptionally durable for custom mechanical and electrical configurations, as well as EMI/RFI attenuation. Recommended power settings are from 0.1 to 1.0 watts per square inch.

Datasheets are available for download at www.dontech.com. For more information, contact Dontech, Inc., 700 Airport Blvd, Doylestown, PA 18902, USA. Tel: 215-348-5010; Fax: 215-348-9959; E-mail: info@dontech.com; Web: www.dontech.com.

Dontech, Inc. is an ISO-9001:2008 certified designer and manufacturer of optical filters, coatings and enhanced display solutions for medical, military, aerospace and industrial applications. With more than 40,000 square feet of facility space and over 10,000 square feet of regulated Class 1,000 through 100,000 clean rooms and optical coating labs, Dontech is well-positioned to support display enhancement projects of any size.


More from Cleaning Products & Equipment