Flexible Toolholder for Automated Tool Grinding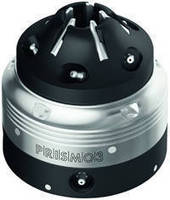 The SCHUNK PRISMO3 tool grinding toolholder directly clamps every shank diameter between 3 mm and 20 mm without the use of collet chucks or sleeves. The tool shank is automatically centered in the toolholder during the clamping process. The set-up time is reduced by up to 70% in comparison with conventional multi range grinding toolholders. Regardless of the tool diameter, the X-axis doesn't change, which means the chuck jaws remain in the identical axial position. This makes it possible to machine the widest range of drilling, reaming, and milling tools around the clock in unmanned operation without reprogramming the L1 measurement.



The design layout, the base sleeve, and the robust construction give the toolholder its high rigidity. Its sturdy jaw guidances prevent the grinding discs from swinging up and almost completely eliminate tube imbalance. The toolholder is rinsed with clean oil during grinding operation, which prevents dirt accumulation, and helps to maintain the high precision. Compact dimensions of 125 mm x 125 mm leave ample space for the tools, grinding process, and loading.



About SCHUNK:                                                                                                                          

SCHUNK is the worldwide competence leader for clamping technology and gripping systems. Totaling more than 60 years of experience, SCHUNK is a family owned operation and a global player in one. For more information, visit www.schunk.com.