Applicator / Finishing / Cleaning Brushes
Flexible Strip Brush features metal-free design.
Press Release Summary: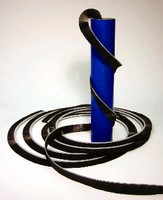 Made from polypropylene and/or nylon, Ez-Flex(TM) is completely recyclable, available in continuous lengths, and flexible enough to fit around tight curves. It offers alternative to metal-backed brushes for use in variety of applications, including eliminating air flow, containing/shielding flying debris, containing light and sound, guiding, and cleaning. When properly installed, brush requires little or no maintenance.
---
Original Press Release:

EZ Flex A Flexible Alternative to Metal-Backed Strip Brush



Richmond, Virginia - August 17, 2007 - Sealeze, A Unit of Jason Incorporated is introducing Ez-Flex(TM) flexible strip brush. Completely metal free and designed to meet the needs of diverse applications, Sealeze's newest brush product is flexible enough to fit around tight curves, lighter than typical strip brush and available in continuous lengths. Ez-Flex strip brush is a cost-effective, convenient alternative to traditional strip brush for use in a variety of applications, including: eliminating air flow, containing/shielding flying debris, containing light and sound, guiding and cleaning. The flexibility of Ez-Flex strip brush lends itself to situations where pliability is critical.

Ez-Flex is completely recyclable and available in continuous lengths. Made from polypropylene and/or nylon, it is an excellent choice for applications required to meet environmentally responsible standards. It's easy to install, requiring only a few standard tools. Coiled lengths make it easy to store and transport. The convenience inherent in flexible brush makes it perfect for in-field replacement or installation. Requiring little or no maintenance when properly installed, Ez-flex is a flexible alternative to metal-backed brush for many applications.

About Sealeze, A Unit of Jason Incorporated
Sealeze manufactures brush in a broad range of sizes, with a large number of filament types, channels and holders to meet a wide range of application requirements. Applications include closing gaps in machinery and conveyor systems, guiding and positioning in manufacturing processes, sealing machinery from chips and debris, heavy-duty cleaning and delicate wiping, shielding against flying debris, dust, air, spray, light and sound, removing static electricity in material handling, manufacturing processes and machinery, and in a variety of applications in FDA-regulated industries such as food processing and medical instrumentation. Sealeze brush products are also used to seal doors and openings in transportation vehicles and buildings.

Sealeze is a unit of the Jason Brush Group which includes Osborn International North America and manufacturing and sales offices throughout the world that are part of Osborn International International Operations. All together, the Jason Brush Group is the world's largest brush manufacturing organization.

Detailed information about Sealeze is available at www.sealeze.com.

Sealeze is an ISO 9001:2000 certified manufacturer.
Sealeze® is a trade mark of Sealeze, A Unit of Jason Incorporated.

Contact:
Sherry MacLaughlin
smaclaughlin@sealeze.com
Marketing Communications Specialist
Sealeze, A Unit of Jason, Inc
8000 Whitepine Road | Richmond, VA 23237
804.275.1675 x 235

More from Explosives, Armaments, and Weaponry