Flexible Solution for Coating Thickness Measurement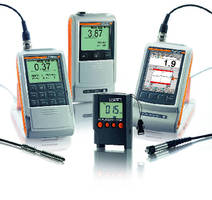 The FMP Series is the most recent addition to the Fischer product line. The new instruments are the DUALSCOPE® FMP20, DELTASCOPE® FMP30, ISOSCOPE® FMP30, DUALSCOPE® FMP40, and DUALSCOPE® FMP100 coating thickness gauges. These easy to use and versatile instruments offer a large and bright graphic display with an extremely durable shock resistant casing. A large selection of probes are interchangeable for the new FMP Series yielding extreme accuracy and a wide measurement range. In addition to the FMP Series, Fischer offers the MP0R Series which has two large displays, automatic substrate recognition, and like the FMP Series, the MP0R is also precise, robust, and easy to use.

You will find the appropriate instrument in the new FMP family to fit your measuring application. The instrument type is determined based on the coatings to be measured and their respective substrate materials.

Fischer Technology is a U.S. manufacturer of coating thickness, material testing, and material analysis instrumentation. Fischer provides certified mylar foils and other standards. Measurement methods available by Fischer include X-ray fluorescence, beta backscatter, magnetic induction, eddy current, and coulometric. Fischer also offers solutions for micro-hardness, conductivity, ferrite content, and porosity testing.

More from Laboratory and Research Supplies and Equipment