Flexible Shaft Measuring System has ±1 micron accuracy.
Press Release Summary: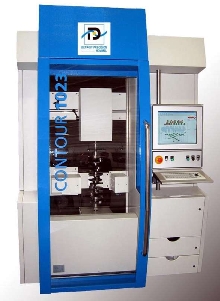 Opticline non-contact CNC shaft gaging system measures form, dimensional, and positional tolerances of shaft-type parts in submicron detail and instantly records results. Accommodating shaft diameters from 0.2-480 mm and lengths from 1-2,500 mm, system uses calibration processes and telecentric camera measuring systems to measure complicated workpiece geometries. Optical measuring head records multiple characteristics in one pass.
---
Original Press Release:

Flexible Shaft Measuring Systems Offer Speed, Versatility, Accuracy


Detroit Precision Hommel, the leader in optical shaft measurement, will demonstrate at Quality Expo Booth 1206 its Opticline noncontact CNC shaft gaging system which measures form, dimensional, and positional tolerances of shaft-type parts in submicron detail, recording results instantly.

The fully flexible shaft gaging systems accommodate shaft sizes from 0.2 mm to 480 mm diameter, 1 mm to 2500 mm long with measuring accuracies to +/- 1 micron, and provide a powerful alternative to conventional shaft measuring techniques that is faster, more accurate and more complete.

Highly accurate telecentric camera measuring systems and specially adapted calibration processes permit measurements of even the most complicated workpiece geometry, allowing users to effectively measure cylindrical and eccentric shafts, such as crankshafts, camshafts, compressor and turbine shafts.

Contour, diameters, length, roundness, concentricity, cones, angles, flatness, parallelism, eccentricity, stroke, threads, and more, can be recorded during a single pass of the optical measuring head. Measurements are easily completed within a production cycle for 100% quality control. Manufacturing checks, automatic tool correction, dimensional measurement, initial sample measurement and machine setup are typical applications for this family of versatile gages.

Filters are used to assure highly reliable measuring results, and to eliminate sources of error, including dirt and swarf.

The family of gages is driven by Windows-based measuring software. A measuring program can be assembled from function macros, so repeated measuring tasks can be accomplished very quickly. And the flexible design of the measurement modules, the consistent use of common standards, the measurement technology, and the use of standard operating systems makes it possible to create the optimum solution for each application.

Once the workpiece has been scanned, a part profile is displayed on the large LCD, at which point the part may be analyzed, documentation can be output, data can be stored and graphed for later reference, or transferred (networked).

Detroit Precision Hommel is a ISO-9002, QS-9000/TE, EN ISO 9001 certified designer and builder of standard and custom gaging solutions, delivering turnkey fixture, functional, automatic and value-added gaging to customers worldwide.

For more information, contact John Sattmann at Detroit Precision Hommel, 248-853-5888. Or see www.dphgage.com.

Related