Flexible Screw Conveyor handles bulk dry powder/granules.
Press Release Summary: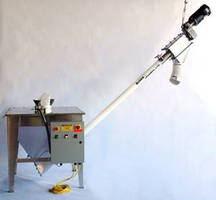 Featuring modular design and stainless steel construction, Model FS-1 can be setup to operate intermittently, running when signal is received from low level sensor controller in hopper. Manual bag dump station collects dust from bulk containers, while cartridge filters, which clean via reverse pulse of compressed air, as well as high-velocity vacuum fan, draw dust away from operator. For change-out, removal of 2 bolts from drive shaft allows screw to slide out back of main hopper.
---
Original Press Release:

Auger Feeders, LTD Introduces New Flexible Screw Conveyor



Each day brings new challenges to manufacturers and their manufacturing processes. The new FS-1 flexible screw conveyor addresses and solves those everyday issues. With a modular flexible design and stainless steel construction, the FS-1 is easy to clean and a valuable asset to processing and packaging facilities.

Designed to handle bulk dry powders and granular materials, the FS-1 flexible screw conveyor is able to deliver bulk product at desired rate and elevation. A typical application for the FS-1 is to have the main drive motor hanging from the ceiling, locating the discharge point at a specific location and elevation. The FS-1 flexible screw conveyor can be set up to operate intermittently, running only when it receives a signal from the low level sensor controller in the receiving hopper. Once the signal is received the FS-1 pulls the bulk product from the lower hopper at a designed rate of speed.

To reduce dust buildup, the manual bag dumps station is designed to collect dust generated when dumping powder from bags, boxes, drums or any other bulk containers. Cartridge filters, in conjunction with a high velocity vacuum fan, draw the airborne dust away from the operator. The cartridge filters periodically clean by a reversed pulse of compressed air when the dump station is closed, dropping the buildup into the hopper.

The FS-1 is designed for easy removal of the screw. Removal of the two bolts from drive shaft allows the screw to easily slide out the back of the main hopper. The FS-1 is also designed so that different size screws can easily be changed out. By removing a few bolts, the flexible tube couplings can be changed out to different sizes.

Technical Data-Machine Specifications include:



Floor Dimensions          38 x 60 inches 

Height	                  TBD 

Conveying Rate	          TBD

Helical Spiral (used for conveying) 1-5/8" to 4.0" 

Installed Power	          3.5 K Watts 

Feeder Motor 	          3.42

Vibrator 	          168 Watts 

Net Weight 	          525 Pounds 

Gross Weight 	          Est. Average 900 Pounds



For more information on the FS-1, please contact:

Auger Feeders

325 Westtown Rd.,

Unit 8,

West Chester, PA 19382

TEL (610) 692-7290

FAX (610) 692-7282

info@augerfeeders.com

More from Material Handling & Storage