Flexible Parallel Robot Cables are smooth-sliding, durable.
Press Release Summary: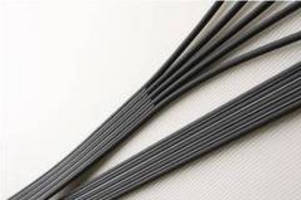 VEYOR-CABLE(TM) enables various high-flex robot cables to be combined and bonded to meet specific end-user requirements. Exhibiting flexibility as well as durability to withstand 50+ million bending cycles, cables incorporate engineering-plastic-based elastomer adhesive for bridged bonding of cable sheaths. This permits parallel configuration of cables that have different external diameters as well as air tubes, PCV-sheath cables, and urethane cables made of different materials.
---
Original Press Release:

OKI Electric Cable Launches VEYOR-CABLE(TM) Smooth-Sliding Parallel Robot Cables



- Parallel robot cables optimized for the needs of individual customers -

KANAGAWA, Japan - OKI Electric Cable (TSE5815) today announced the launch of VEYOR-CABLE(TM) parallel robot cables,*1 which enable various high-flex robot cables to be combined and bonded to meet specific customer requirements. Sales and shipment of VEYOR-CABLE begins today.

When high-flex robot cables are used on industrial machines, such as in factory automation, the purpose is to support repetitive operation. Normally, a number of cables and air tubes are stored in the cable veyor. There were problems when wiring cables one by one as it sometimes led to low productivity, incorrect wiring and low bending performance. In order to solve these problems, individual cables needed to be adhered closely in maintain their durability. Moreover, each cables needed to be adhered; however the use of durable and flexible adhesion to maintain the original sliding characteristics of the individual cable was difficult.

Today, the company has successfully launched bonded-type parallel robot cables as commercial products utilizing its proprietary parallel processing technology. VEYOR-CABLE parallel robot cables offer both excellent flexibility and toughness (durability against sliding sufficient to withstand more than 50 million bending cycles*2 as verified by in-house testing) by incorporating an engineering-plastic-based elastomer adhesive for bridged bonding of cable sheaths. This ensures superb flexibility and secure adhesion, which in turn permits the parallel configuration of cables that have different external diameters, as well as air tubes, PCV-sheath cables, and urethane cables made of different materials. The resulting range of potential products meets a broad range of customer needs.

In addition to achieving a more compact configuration than wiring involving multiple individual cables, this robot cable system also significantly improves wiring efficiency.

Parallel cables are typically expensive due to the complex and time-consuming design and manufacturing process. The dedicated parallel cable processing equipment developed for VEYOR-CABLE enables small-lot production of products to custom specifications. The integrated production system handles all processes in-house, ranging from individual cable design to parallel configuration to the attachment of connectors to cable ends, allowing timely delivery-at a reasonable cost-of products that meet customer needs precisely.

"I am delighted with the development of this parallel robot cable. Since it offers superb flexibility and toughness, it allows parallel configuration of cables that have different external diameters, as well as cables made of different materials. As a result, this widens the range of potential products answers a wider range of customer needs," said Takashi Hattori, President of OKI Electric Cables. "OKI Electric Cable will continue to strive to develop new products offering ever-higher quality to meet the needs and requirements of each customer."

The VEYOR-CABLE products will be displayed at the International Robot Exhibition 2009 to be held at Tokyo Big Sight (East Hall 2, IR2-17) from November 25-28, 2009.

About Oki Electric Cable Co., Ltd.

Established in 1936, Oki Electric Cable Co., Ltd. provides various advanced communications cables, optical cables, and related electronic parts and equipment tothe worldwide market. As a member of the OKI Group, Oki Electric Cable Co., Ltd. plays a major role in the group. The company's website is located at okidensen.co.jp/english/e_home.htm Sample

Notes:
- VEYOR-CABLE is a trademark of Oki Electric Cable Co., Ltd.
- Names of companies and products are trademarks or registered trademarks of the respective companies and organizations.

Press contact:
Jun Hara
Corporate Planning Office
Phone: +81-44-754-4369
Contact Form: https://www.oki.com/ssl/oec/contact/english_form.html

More from HVAC