Flexible Microwave Waveguides Available from Servometer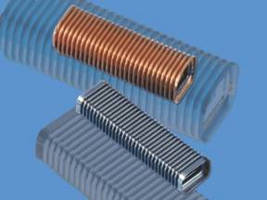 Cedar Grove, NJ

Flexible waveguides are available from Servometer, LLC to transmit signals of microwave and radar instrumentation. By using electroforming technology, waveguides are available with the perfect combination of all-metal construction, precise internal dimensions, and flexibility.

Electroforming is the process of machining an aluminum or stainless steel mandrel, plating the external surface with metal such as nickel, copper, gold, or silver, and chemically removing the original mandrel. Because the internal dimensions of the electroform are based on the external dimensions of the machining, waveguides can be manufactured with extremely tight tolerances. With the flexibility of a bellows, electroformed waveguides can be installed in confined areas rather easily. Assemblies are available in completely custom sizes from micro-miniature structures to over sixteen feet in length. Servometer waveguides are used in land-based equipment as well as satellite communication systems. Every waveguide is constructed to operate at cryogenic temperatures.

Value added services are available as well. Servometer can solder or weld end components for seamless integration into customer assemblies.
For more information, visit http://www.servometer.com/products/precision-electroforms/flexible-waveguides/

About Servometer

Since 1957, Servometer has pioneered the manufacture of electrodeposited miniature metal bellows, bellows assemblies, contact springs, flexible shaft couplings and structurally rigid electroforms. Servometer miniature bellows are used in a variety of critical applications where high reliability and long-term use are required. Servometer has supported customers with quality products and technical service for over 50 years. Their unique, patented electrodeposition process has led Servometer to become the leading supplier of miniature metal bellows manufactured by this method. In 2007, Servometer acquired BellowsTech, Inc. of Ormond Beach, Florida, creating BellowsTech, LLC, a premier manufacturer of metal edge welded bellows and assemblies, encompassing a wide array of alloys and dimensional configurations. The flexibility of material and size of metal welded bellows, as well as application expertise, have led BellowsTech into a diversity of industries including aerospace, medical, test, semiconductor, solar, and oil and gas.

More from Chemicals & Gases