Flexible Metal Hose is available for cryogenic liquid gases.
Press Release Summary: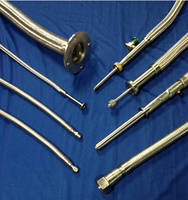 With available options, flexible metal hoses meet all connection requirements for such cryogenic applications as liquid oxygen transfer and liquid helium supply. Non-insulated or vacuum insulated metal hose comes in any size, length, or pressure, and various end fitting options are available to meet any connection requirement. Full length protective armor casing, cuffs, or anti-corrosive coverings can be applied, and any hose can be cleaned to CGA-4.1-2009 standard.
---
Original Press Release:

Cryofab Now Offers the Ultimate in Flexible Metal Hose for Cryogenic Liquid Gases



Cryofab, Inc. adds flexible metal hose to its existing standard line of cryogenic accessories. With the available options, these cryogenic hoses fit virtually all connection requirements including liquid oxygen transfer, liquid helium supply and more.



Cryofab now offers the ultimate in flexible metal hose for cryogenic liquid gases. Our hoses are used for but not limited to liquid cylinder filling, mini-bulk trans-filling, home care LOX trans-fill, fueling and helium compressor supply and return lines.



We offer non-insulated or vacuum insulated metal hose in virtually any size, length or pressure with a variety of end fitting options to fulfill just about any connection requirement.



Full length protective armor casing, cuffs, or anti-corrosive coverings can be applied to all hose for added safe guards.



Our LOX fill hoses are prepped and cleaned to CGA-4.1-2009 Oxygen Cleaning Specifications; however any hose can be cleaned to this standard depending on user requirements.



Contact us now regarding all of your hose requirements and to request pricing at vjgrillo@cryofab.com or 1-800-426-2186, EXT.19



About Cryofab

Cryofab, Inc. is a key vendor in the global cryogenic equipment marketplace. We manufacture and service cryogenic storage and accessories, offering custom as well as standard fabrications to customers world-wide. Cryofab offers ASME, DOT, ANSI, IATA, and ADR products. Our in-house engineers can assist with product development for OEM or private label fabrication, whether it be prototype or productions runs.



Founded in 1971, Cryofab has grown solely on the merits of its innovative products and superior service.



For more information contact:

Cryofab, Inc.

540 North Michigan Avenue

P.O. Box 485

Kenilworth, NJ 07033

Phone: 908-686-3636 ext. 19

1-800-426-2186 ext. 19

Fax: 908-686-9538

E-Mail: vjgrillo@cryofab.com

http://parts.cryofab.com