Flexible Manual Chuck maximizes milling/turning application field.
Press Release Summary: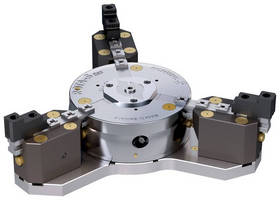 Expanding workpiece machining range on milling/turning machines, ROTA-S flex can be assembled on machine table and by using optimized jaw quick-change system; retrofitting can be accomplished within seconds. Extended guideways can be disassembled to promote workpiece accessibility, and height leaves enough space for workpiece and tools. While lubrication system ensures permanently high clamping forces, dirt seals prevent chips and dust from entering chuck.
---
Original Press Release:

ROTA-S Flex Maximizes the Application Field of Milling/Turning Machines



SCHUNK has developed the highly flexible manual chuck ROTA-S flex particularly for machining a wide workpiece range on milling/turning machines. It is the proven lathe chuck ROTA-S plus with extended guideways transformed into a large, light-weight chuck (for its capacity), which makes it particularly versatile.



Compared to conventional lathe chucks used for large clamping diameters, the weight with ROTA-S flex is approximately 60% of a conventional chuck with the same capacity. At an identical table load much heavier workpieces can be machined, and due to the low height, enough space remains for the workpiece and the tools. For machining smaller workpieces, the extended guideways can easily be disassembled, considerably improving workpiece accessibility compared to a clamping application with conventional large chucks. A special lubrication system ensures permanently high clamping forces for both versions. Dirt seals prevent chips and dust from entering the chuck.



The ROTA-S flex can be easily assembled on a machine table, and by using the optimized jaw quick-change system, retrofitting can be done within seconds. The chuck clamps small parts as reliably as large ones, ensuring operator safety. The clamping solution is available in sizes 700, 1000, and 1200 for ROTA-S plus, and the manual chuck ROTA-S plus 2.0 is available in sizes 315, 400, and 500. Depending on the size, the chuck (without top jaws) weighs 170 kg, 360 kg, or 490 kg respectively. The ROTA-S flex can be combined with numerous chuck jaws from the 1,200 types of the world's largest standard chuck jaw program from SCHUNK.



About SCHUNK:

SCHUNK is the worldwide competence leader for clamping technology and gripping systems. Totaling more than 60 years of experience, SCHUNK is a family owned operation and a global player in one. For more information, visit www.schunk.com



Media Contact

Alexandra Altvater

Marketing Coordinator

919-767-2013

Alexandra.Altvater@us.schunk.com



Technical Contact

Steve Hartung

Workholding Group Manager

919-767-1984

Steve.Hartung@us.schunk.com