Flexible LED Backlight provides low-light design flexibility.
Press Release Summary: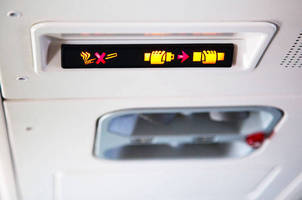 Delivering up to 20 cd/m² brightness, QuantumBrite Shapeable LED Backlight can be customized in any shape, size, or color for flat and curved surfaces. Holes can be cut into backlight in any shape, allowing space for switch or other component on circuit board. Suited for applications where non-jarring, natural, soothing lighting is required, RoHS-compliant backlight has viewing area profile height of 0.125 mm and surface textured with patterns designed for optimal light distribution.
---
Original Press Release:

First-In-Industry Shapeable LED Backlight from Lumex Provides Unprecedented Design Flexibility and Opens Door to Wide Variety of New Low-Light Applications



Shapeable LED backlight is up to 97% thinner and 30% less expensive than alternative backlights

PALATINE, IL - Lumex announces the global launch of its first-in-the-industry QuantumBrite Shapeable LED Backlight. With the new shapeable LED backlight, holes can be cut into the backlight in virtually any shape (for example, to allow space for a switch or other component on the circuit board). This combination of flexible and shapeable LED backlight technology is unique in the industry and opens the door to a broad new range of LED backlight applications completely customizable in any shape, size or color on both flat and curved surfaces. The new backlight technology provides a brightness of up to 20 cd/m2, making the technology ideal for applications where non-jarring, natural, soothing lighting is required.

The ultra-thin QuantumBrite LED backlight viewing area has a profile height of just 0.125mm, up to 97% thinner than traditional LED backlight technology and up to 79% thinner than alternative flexible LED backlight options. The profile is only marginally thicker than a standard piece of writing paper. The ultra-thin surface is textured with patterns specially designed for enhanced light distribution, resulting in up to 30% more uniform light distribution compared to alternative flexible backlights.

The new shapeable LED backlight also generates cost savings at prices up to 30% less expensive than electroluminescent (EL) and 50% less expensive than fiber optic backlights.

The new QuantumBrite Shapeable LED Backlights are ideal for applications where soothing, natural light is required. The light provided is bright enough for visually challenging situations (such as around a cup holder in a darkened movie theater, or on in-cabin signage in an aircraft cabin) but soft enough to not be jarring (such as in automotive and roadside applications where it is important that bright lights not impair the vision of drivers or in spas where soothing, non-jarring lighting is required).

The new, first-in-industry technology opens the door to a wide number of creative applications including logo enhancement and indirect lighting. The ultra-thin profile makes the technology particularly well-suited for compact portable-device applications and the material flexibility makes it possible to use the new technology on both flat and curved surfaces. Applications include:
· Apparel (can be incorporated into clothing and fashion accessories such as watches, hats or t-shirts);
· Appliances (including logo illumination, refrigeration display backlighting and non-traditional applications such as lighting the handles of refrigerators);
· Automotive/Aviation (including logo, switch and dashboard illumination, in-cabin lighting, van wraps/vehicle decoration);
· Medical Device technology (including panel indication, and logo/display backlighting on medical radiology equipment, monitors, defibrillators, infusion pumps, blood/gas analyzers and ventilators);
· Industrial Control technology (including climate control, AMR metering and drive control displays);
· Retail and Entertainment (including in-store accent lighting, movie theater and spa applications, shelf displays);

"The introduction of Lumex's first generation of flexible LED backlight technology in late 2010 represented an exciting new generation of LED backlighting and opened the door to new applications on both flat and curved surfaces," explained Steve Sievers, Product Design Engineer at Lumex. "The new shapeable LED backlighting technology provides enhanced performance, an even thinner profile and completely unprecedented design flexibility as engineers can now quite simply "cut" the backlight around any obstacles they might have on their circuit boards to create a product optimized for their unique application."

QuantumBrite Shapeable LED Backlight technology comes with complimentary integration support. Lumex Technical Design Specialists can integrate the backlights with LEDs, LCDs, light pipes, switches, connectors and other key components to create solutions that maximize performance and efficiency in each individual application.

The RoHS compliant QuantumBrite Shapeable Backlight technology is available in custom sizes. Pricing is dependent on size and quantity ordered and is approximately $1.50 to $5.00 from 1.0"2 to 5.0"2 in size. Production lead times range from six to eight weeks.

Lumex Contact Information
For additional information or engineering assistance:

In North America and Europe, contact Lumex's Sales Department, 425 N. Gary Avenue, Carol Stream, IL 60188 USA. Phone: 1-800-278-5666. E-mail: lmxsales@lumex.com Web: www.lumex.com.

In Asia, contact Lumex's Asian Pacific Headquarters at 3F, No. 972, Sec. 4, Chung Hsing Rd., Chu Dung, Hsin Chu County, Taiwan, ROC. Phone: +886-3-582-1124. FAX: +886-3-582-1154. Web (in Chinese): www.lumex.com.tw

About Lumex
For over 30 years, Lumex, a member of the ITW Photonics Group, has been a global leader in the optoelectronics industry. With the broadest range of high efficiency, high performance LEDs and LCDs in the industry, Lumex provides thousands of standard products and specializes in semi-custom and custom designs. Lumex's optical range encompasses a wide spectrum including UV, visible and infrared wavelengths. Lumex's team of Technical Design Specialists are experts in collaboratively developing effective, smart solutions from the most complex design dilemmas.

Lumex has a global footprint with the worldwide headquarters outside Chicago and the Asian headquarters in Taiwan. With manufacturing capabilities in the United States, China, Taiwan and Thailand, Lumex is able to support over 23 end markets with more than 80,000 customers both directly and through our distribution channel partners. Lumex received its initial ISO 9001 registration in 1996.

About the ITW Photonics Group
The ITW Photonics Group was created to bring together and build on the technical expertise of individual companies that specialize in photonics technology and span the full spectrum of wavelengths. The group consists of:

· Lumex - LED and LCD technology
· Cal Sensors - IR Detector and Emitter technology
· Opto Diode Corp - LED, Silicon Photodiodes and Electro-Optical Assembly technology
· ITW Linx - Surge protection technology

The synergy of these industry front-runners provides an unsurpassed range of photonic capabilities within a broad spectrum of markets, including medical, military and industrial controls. The ITW Photonics Group provides integrated solutions that encompass the technology and experience from all three business units, offering design engineers higher performance with greater feature enhancements. For more information on the ITW Photonics Group, go to www.itwphotonicsgroup.com

More from Architectural & Civil Engineering Products