Flexible Heaters wrap and bend while providing uniform heat.
Press Release Summary: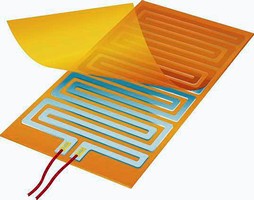 Sandwiched between layers of flexible insulation, etched foil or wire-wound heater elements can have uniform or profiled heat patterns. Heaters can integrate temperature sensors, flex circuits, instruments, or other electronics to provide total heating solution. End-users can choose from various standard configurations or request custom heating solution. Available types include Polyimide (Kapton®) Thermofoil(TM), Silicone Rubber, Thermal-Clear(TM), Mica, and All-Polyimide Heaters.
---
Original Press Release:

Thin, Flexible Heaters can Wrap and Bend While Giving You Uniform Heat



Choose the best heating profile, insulation and installation to suit your design.

Minneapolis, Minn., August 1, 2008-Minco, a designer and manufacturer of critical components for critical applications, has a new line of flexible heaters designed to provide accurate, reliable and rapid heat in a lightweight, thin profile. Sandwiched between layers of flexible insulation, etched foil or wire-wound heater elements can have uniform or profiled heat patterns. These heaters can integrate temperature sensors, flex circuits, instruments or other electronics to provide a total heating solution. Choose from a selection of standard configurations, or have a Minco engineer work with you on an affordable custom heating solution.

o Polyimide (Kapton®) Thermofoil(TM) Heaters are ideal in applications with space and weight limitations, or where the heater will be exposed to vacuum, oil or chemicals. Applications include medical devices, aerospace, aviation and optoelectronics.

o Silicone Rubber Heaters can be vulcanized directly to metal parts without adhesives. Applications include food service, graphic imaging and thermal processing equipment.

o Thermal-Clear(TM) Heaters have a micro-thin wire-heating element in between optical-grade polyester sheets to provide heat without blocking light. They are ideal for heating LCDs, cockpit displays, outdoor card readers, portable military radios and computers and for optical deicing and defogging. They are perfect when you need heat with light shine-through.

o Mica Heaters provide the ultimate in temperature and wattage capability for fast warm-up in packaging equipment, appliances and instrumentation.

o All-Polyimide Heaters are a high performance alternative to standard polyimide heaters, allowing higher temperatures and watt densities. Applications include semiconductor wafer processing, satellites, spacecraft, and packaging, fusing and splicing equipment.

A Prototype Heater Design Kit is also available. A Heater Design Guide can be ordered in print or downloaded.

The Minco Engineer2Engineer Community gives you ready access to engineers at Minco who are happy to discuss your heating requirements. You can access this community via the website (http://www.minco.com), or phone 763-571-3121 for more information.

About Minco
Minco designs, manufactures and markets critical components for critical applications. The company is unsurpassed in its ability to integrate and assemble flexible Thermofoil(TM) Heaters, Flex Circuits, Sensors and Instruments into a single component for greater efficiency. Minco helps companies minimize the risk of product failure by providing highly reliable components and expert design services.

Worldwide Headquarters: 7300 Commerce Lane, Minneapolis, MN 55432 U.S.A.
European Headquarters: Zone Industrielle 09310 Aston, France
Asia Pacific Headquarters: 20 Science Park Rd #20-31 Teletech Park, Singapore

More from Sensors, Monitors & Transducers