Flexible Fabric Wall Systems enclose loading dock areas.
Press Release Summary: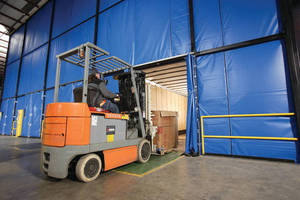 Offering alternative for permanent walls or rigid panelized systems, insulated fabric wall systems act as barriers to separate inside dock from rest of facility, eliminating need to heat or cool space accessed by trucks. System incorporates TZ Series of insulated curtain walls capable of providing temperature separation up to 40°F. Modular wall panels are constructed of fire-retardant vinyl surrounding multiple layers of recyclable, anti-microbial polyester batting.
---
Original Press Release:

Zoneworks(TM) Flexible Loading Dock Enclosure Allows Users to Save Energy and Boost Employee Comfort at the Dock without the High Costs of Permanent Walls



Milwaukee, Wis. - May 5, 2009 - Zoneworks(TM) introduces the TZD line of flexible fabric wall systems to enclose interior loading dock areas. The adaptable wall systems substantially reduce facility energy costs and greatly enhance employee comfort at the loading dock without the need to build costly permanent walls, or rigid panelized systems.

Zoneworks insulated fabric wall systems act as barriers to separate the inside dock from the rest of the facility, eliminating the need to heat or cool the expansive space accessed by trucks. The walls stop the rapid influx of cold or hot air, as well as humidity, every time an exterior dock door is opened. The modular wall system can also be used to completely enclose an open-air dock for better overall environmental control and energy savings.

Each Zoneworks dock system is custom-designed to address the unique environmental needs of the application. The systems incorporate the use of Zoneworks' TZ Series of Insulated Curtain Walls, the only flexible walls capable of providing temperature separation up to 40°F (22°C). The modular wall panels are constructed of durable, fire-retardant vinyl surrounding multiple layers of recyclable, anti-microbial polyester batting, and are securely interconnected with Velcro®.

Heavy-duty sliding curtains provide access to individual dock stations. The curtains can be easily opened and closed via a track and trolley system built into the top of the system's doorframe. Curtains are typically anchored to the dock surface with sturdy drop pins that easily slide in and out of position.

They system's stationary curtain walls can be affixed to existing building structures (such as ceiling joists), or custom metal frameworks can be constructed. Custom engineering ensures a proper fit around corners and any obstructions. Zoneworks industry specialists also provide on-site design consultation and complete drawings, as well as turnkey project support, including installation coordination if needed.

About Zoneworks

Zoneworks is a sister company to Frommelt Products Corporation, an industry leader in the design and manufacture of environmental control solutions at the loading dock. Zoneworks specializes in flexible curtain walls for a wide variety of large space separation, and zoning and containment needs in industrial and commercial facilities. Zoneworks curtain walls are available for temperature separation, heat containment, odor containment, dust control, sound attenuation and other environmental control needs.

All Zoneworks products are designed and manufactured in the United States and meet NFPA-701 flame resistance standards. For more information, please call 1-800-553-4834, or visit www.zoneworks.com.

For Information Contact:

Mary Blaser
(414) 362-6402
mblaser@zoneworks.com

More from Agricultural & Farming Products