Flexible Epoxy Sealant is suited for expansion joints.
Press Release Summary: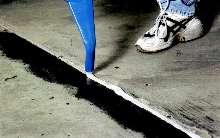 Joint Guard(TM) fills expansion joints with flexible epoxy seal that will not become brittle or break out as sections of floor expand and contract in response to temperature changes. With 100% solids formula, product flexes up to 50% and withstands heavy traffic and chemical contact. Pourable, self-leveling, self-priming, non-shrink sealant prevents contaminants from pooling in joint areas.
---
Original Press Release:
Flexible Epoxy Sealant for Expansion Joints
WALL, NJ -- Expansion joints are the most common type of moving cracks. They allow sections of your concrete floor to freely "expand" and "contract" in response to temperature changes in the surface. These cracks are your floors weakest spots and when combined with moderate to heavy traffic you have a potential for constant damage. To fill these joints a material is needed that will flex to accommodate movement. Joint Guard(TM) from Garon Products will provide you with a durable flexible epoxy seal that will not become brittle and break out with movement. Joint Guard(TM) flexes up to 50% so your expansion joint repairs stay in place, it's 100% solids formula stands up to heavy traffic and chemical contact. Joint Guard(TM) is pourable, self-leveling, self-priming, and non-shrink. Most importantly Joint Guard(TM) is not brittle like ordinary concrete repair materials allowing it to move with the floor. The use of Joint Guard(TM) prevents contaminants from pooling in joint areas-especially necessary in food plants and other floor surfaces where sanitary conditions are required. Joint Guard(TM) is available from Garon Products, a major manufacturer of concrete repair products and floor & deck coatings for over 44 years. For a free catalog contact Garon Products, 1-800-631-5380 or visit us at www.garonproducts.com
Related