Flexible Containment System exceeds NIOSH safety requirements.
Press Release Summary: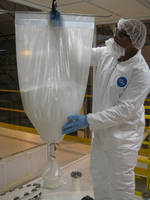 Providing engineering controls needed to eliminate contamination concerns to below 1 µg/m³, NanoPac™ exceeds NIOSH (National Institute for Occupational Safety) standards for nanoparticle containment while maintaining clean manufacturing area. Design reduces product loss and minimizes downtime for cleaning while maximizing product quality by eliminating cross contamination issues. System is suited for short run and prototyping and is scalable as transition to manufacturing.
---
Original Press Release:

ILC Dover Nanopac(TM) Exceeds New Niosh Safety Requirements



Engineering Control Designed to Protect Against Carbon Nanotubes and Nanofibers



Frederica, DE — ILC Dover, the designer and manufacturer of NASA's space suits and a wide range of engineered film and fabric products, announced its innovative NanoPac™ flexible containment system, which exceeds new NIOSH (National Institute for Occupational Safety) standards for nanoparticle containment.  As nanotechnology continues to expand into every industrial sector, workers may be at an increased risk of exposure to new nanomaterials such as nanotubes and nanofibers.



For more than a decade, ILC Dover flexible containment systems have helped protect pharmaceutical and industrial workers processing hazardous ingredients by providing the engineering controls needed to eliminate contamination concerns to below 1 µg/m3. Using this same technology, they now support nanotechnology processing.



"Our systems offer the most cost effective containment solutions available while maintaining a clean manufacturing area with reduced particulate contamination, said Alan George, New Business Development Manager, Industrial Containment at ILC Dover. "We also offer customized systems, which support specific applications and adapt readily to any type of processing equipment. As the nanotechnology industry realizes its potential, ILC Dover will be there to provide the containment and control needed by this community."



Benefits Of NanoPac™ Include:

• Reduced Capital costs over rigid isolators

• Reduced product loss as with localized exhaust ventilation

• Minimized downtime for cleaning

• Maximizing product quality by eliminating cross contamination issues

• Flexible operations for manufacturing

• Ideal for short run and prototyping and scalable as transition to manufacturing

• Maximized Operator safety and ergonomics

• Protecting our Environment



ILC Dover NanoPac™ technology can be seen at the Nanotech 2013 Conference and Expo in Washington, DC May 13-14 (booth 116) and at the AiHce Conference in Montreal, Canada May 20-22 (booth 910).



About ILC Dover

Since 1947, ILC Dover has provided engineered solutions to complex customer problems, serving the aerospace, personal protection and pharmaceutical industries. Known for production of space suits for NASA, ILC is a world leader in the use of high-performance flexible materials, allowing for unique solutions to meet customer needs. ILC's innovative products have been used on the moon, on Mars and around the globe.



To view ILC Dover's innovative solutions for worker safety, please visit our website at www.ilcdover.com for flexible containment solutions and PPE.



ILC Dover…creating what's next



Media Contact:  Inventive Public Relations www.inventivepr.net

Christian Scarborough

512-244-7088

christian@inventivepr.net

More from Software