Flexible, Conductive Adhesive replaces solder in solar cells.
Press Release Summary: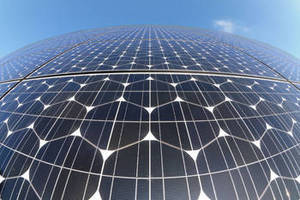 Formulated for optimized bond strength and flexibility required for bonding of solar array components, 124-08 electrically conductive epoxy adhesive features coefficient of thermal expansion compatible with composition of thin film PV cells. This 1- or 2-component, pre-catalyzed solution, which can be injected via syringe or jet dispensed, is resistant to humidity, has cure temperature range of 90 min @ 80°C to 5 min @ 175°C and is RoHS-compliant.
---
Original Press Release:

Flexible Electrically Conductive Adhesive Family as Solder Replacements in Solar Cells



Creative Materials, Inc., introduces 124-08 to address cost and efficiency concerns in the solar industry. As a replacement for lead solder materials, 124-08 offers strong flexible bonding of solar array components, which are increasingly manufactured to thinner tolerances and with larger surface areas. In addition, 124-08's low coefficient of thermal expansion (CTE) is more compatible with the composition of thin film photovoltaic cells, which improves the cells' performance in production and in service.

Tyngsboro, MA - Creative Materials, Inc., introduces 124-08, Electrically Conductive Epoxy Adhesive, for applications in the solar industry. Available as a two-component and one-component pre-catalyzed epoxy adhesive, 124-08 offers excellent bond strength, superior flexibility, and a low-temperature cure. This product has been tested in a wide range of applications and is particularly recommended as a bonding agent to replace solder materials in the building of solar arrays.

Significant pressures from many quarters confront the solar industry to both lower raw materials costs and increase product efficiency, in order to compete effectively with traditional grid power systems. New product advances can offer solutions. Among the industry's challenges is to replace solder materials. Solder is neither environmentally acceptable, nor is it an efficient bonding agent as the solar industry looks for more cost-efficient materials and solutions. The industry trend is to produce thinner solar cells with greater surface area, in order to reduce material costs. Solder does not provide sufficient flexibility to bond effectively to crystalline silicon solar cells. Moreover, the CTE of the rigid solder interconnect is not compatible with the solar cell material, which results in more breaking and cracking of cells.

As a bonding material, 124-08 addresses the performance criteria for solar cell production in every respect. This is a highly conductive product that meets the low-temperature processing and fast-curing specifications required to minimize stresses on the delicate solar cells. The product can be syringe or jet dispensed and is available as a one-component (124-08C and 124-08LVC) or two-component system (124-08A/B). The cure temperature range of 124-08 is from a low of 80°C (@ 90 minutes) to 175°C (@ 5 minutes). The product provides a flexible bond with superior bond strength that the new design of photovoltaic cells requires. Providing a resilient bond that is less sensitive to handling, 124-08 is effective at a wide range of temperatures and resistant to humidity. In addition, 124-08 is lead-free and RoHS compliant.

This product is part of Creative Materials' electrically conductive epoxy adhesive family, which also includes 118-15, 123-39, and 125-18. These products reflect the depth of product development that Creative Materials achieves in order to provide customized solutions for unique application requirements. Please visit our web site for more information on these and other products: http://server.creativematerials.com/datasheets.html.

Creative Materials, Inc., is a leading manufacturer of electrically conductive inks, coatings, and adhesives. Products from Creative Materials are used in electronic components for computers, keyboards, cell phones, solar collectors, automobiles and aircraft, for medical electrodes, medical instruments, and heating equipment. Creative Materials is ISO 9001 certified, with an extensive product line that includes more than 1,000 products. The company is renowned for creating custom formulations that are used in a wide variety of global applications, providing cost-effective design solutions for demanding production requirements. With over 80 years of experience in the adhesives, ink and coating industry, our staff combines technical expertise with nimble production capabilities, enabling us to reduce time-to-market for new product applications.

Our products are manufactured to order, with typical lead times of two or more weeks. Pricing is available upon request. For more information about this and other products, please visit our website at www.creativematerials.com, or contact us at info@creativematerials.com.

More from Controls & Controllers