Flexible Circuit Loop Antenna targets healthcare M2M market.
Press Release Summary: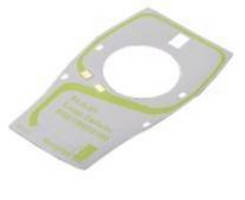 Delivering over 40% efficiency in healthcare monitoring devices, FLA.01 Penta-band Cellular Antenna can conform to any shape or size and can be applied to any frequency including license-free bands such as 433 MHz, 868 MHz, 915 MHz, 2.4 GHz, and higher. With antenna, medical device designers can ensure their devices achieve consistent wireless connections for transmitting patient data and meet healthcare industry tests such as Specific Absorption Rates and PTCRB.
---
Original Press Release:

Taoglas Launches First Flexible Circuit Loop Antennas for Healthcare M2M Market



Taoglas Designs Smart Antenna Technology Suited to Devices Used Close To or On the Body

Chula Vista, CA - Taoglas, the leading M2M antenna provider, (www.taoglas.com) today announced that it has launched the first flexible circuit loop antenna, which can deliver over 40% efficiency in healthcare monitoring devices. The FLA.01 antenna is a penta-band cellular antenna that is embedded inside medical devices and can achieve high performance, particularly with customization. The technology can be applied to any frequency including licence free bands such as 433MHz, 868MHz, 915MHz, 2.4GHz and higher. With the FLA antenna, medical device designers can ensure their devices now achieve reliable, consistent wireless connections for transmitting patient data and also meet healthcare industry tests.

The FLA flexible circuit antenna is particularly suited to the healthcare market because it can conform to any shape or size, a mechanical advantage for medical devices, which come in different shapes, and sizes. Added to this, the material used in flexible circuit antennas also performs well on the body itself. To achieve the best possible performance for an individual healthcare product, antenna customization can improve device efficiency even further.

"Taoglas has a long history of working with medical device companies to make sure they achieve high antenna performance and they are compliant for tests such as Specific Absorption Rates (SAR) and PTCRB," said Dermot O'Shea, Director, Taoglas. "Recently Jaotech in Taiwan used a Taoglas antenna inside an incontinent pad for a hospital project in Singapore. A device with our antenna on a colostomy bag alerts a central monitoring device informing the nurse that the bag is full and needs to be changed. It saves nurses time and makes sure that patients lying in hospital beds are not feeling uncomfortable."

The body has an acute effect on traditional antenna materials like FR4 or metal, shifting the frequencies and detuning the antenna. With the loop antennas the radiating element (antenna circuit) is embedded within the antenna. It becomes less resistant to detuning from surrounding components and housing as it works more strongly in magnetic field (H). Most components inside a wireless device are working on the electric field (E). This means the field the antenna is radiating in is less effected by noise, emissions and radiation from the device itself and from the body. For more information about Taoglas and the FLA.01 visit: www.taoglas.com/news/

About Taoglas

Taoglas, the leading M2M antenna provider, delivers an extensive range of automotive, utility, telemedical, tracking and remote antenna solutions. Taoglas also provides wireless device services including, antenna and device RF consultancy, custom antenna design, device noise debugging and testing services, and device certification and approval. Founded in 2004, Taoglas has offices in Ireland, Taiwan, South Africa and USA. Taoglas' antenna design and development is carried out by Taoglas in Ireland, USA and Taiwan with production managed through Taoglas Taiwan. Taoglas customers include top tier automotive, tracking, metering and medical companies worldwide. For more information visit: www.taoglas.com.

For more information contact:

Dermot O'Shea

Taoglas

Tel: +353 53 916 9500

Email: doshea@taoglas.com

More from Communication Systems & Equipment