Flexible Cables feature low-loss design.
Press Release Summary: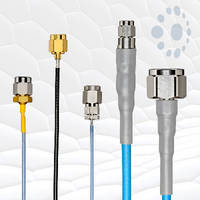 Combining advanced coaxial cable and VP90™ expanded PTFE extrusion technologies, Flexible Cable Assemblies are phase-stable, low-loss interconnect solutions. Coaxial cable sizes range from 16-52 AWG, with most cables exhibiting insertion losses of less than 1.00 db per foot. Available with variety of connectors, cables are suited for test and measurement, wireless broadband, radar, semiconductor, medical devices, robotics, satellite, aerospace, defense, and automotive applications.
---
Original Press Release:

Low-Loss, Flexible Cables Outperform Semi-rigid



Scottsdale, AZ – High Speed Interconnects (HSI), an extruder and manufacturer of high-performance coaxial cable and coaxial cable assemblies, has announced a new range of flexible cable assemblies which outperform semi-rigid cable performance.



Combining advanced coaxial cable and proprietary VP90™ expanded PTFE (ePTFE) extrusion technologies, HSI is able to manufacture highly phase-stable, low-loss interconnect solutions for a wide variety of applications. Coaxial cable sizes range from 16-52AWG, with most cables exhibiting insertion losses of less than 1.00 db per foot with little to no phase change.



To achieve these performance traits, HSI controls every critical manufacturing process, from sophisticated conductor and applied material extrusion, to dielectric material integration and semi-automated micro-miniature termination.



HSI's coaxial cable manufacturing is also extremely flexible. Assemblies can be fine-tuned and sized to suit precise specifications for test and measurement, wireless broadband, radar, semiconductor, medical devices, industrial, oil and gas, robotics, satellite, aerospace, defense, and automotive applications.



A wide variety of connectors include: Type-N, TNC, SMB, SMC, SMA, SMP, SMPM, SSMA, GPO, GPPO, G3PO, G4PO, MCX, and MMCX.



To learn more about these low-loss, flexible coaxial cable assemblies, visit http://www.highspeedint.com/flexible-coax-cable-assemblies/. For a company snapshot on HSI and its unique capabilities, visit www.highspeedint.com



About High Speed Interconnects

High Speed Interconnects (HSI) is a designer, extruder, and manufacturer of high-performance custom micro coaxial and coaxial cable assemblies. Headquartered in Scottsdale, AZ, and with facilities in Portland, OR and Modesto, CA, HSI is one of a few manufacturers extruding its own high-performance coaxial cable and expanded PTFE (VP90). HSI's low-loss, low-capacitance, phase-stable, coaxial interconnect solutions are available in a variety of cable constructions. These constructions include circular and micro coaxial cable assemblies down to 0.3 mm pitch; and fine-wire, direct-to-board solutions down to 0.175 mm. For more information, visit www.highspeedint.com.



Company Contact:

Antonio De La Rosa

High Speed Interconnects

antoniod@highspeedint.com

480-998-2540

More from Test & Measurement