Flexible Abrasive Wheels blend and finish in one operation.
Press Release Summary: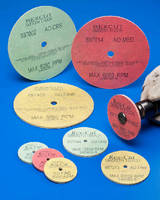 Featuring non-woven cotton fiber construction that constantly exposes fresh abrasives as they work, Rex-Cut® Smooth Touch(TM) Blending and Polishing Wheels are suitable for use on stainless steel, exotic metals, and aluminum requiring high finish. Wheels are available in standard coarse, medium, and fine grits for use at speeds up to 30,000 rpm. Incorporating proprietary bond that provides single density, wheels come in 2, 3, 4, and 6 in. diameters, with thicknesses of 1/8, ¼, and ½ in.
---
Original Press Release:

Flexible Abrasive Wheels Blend and Finish in One Operation



An upgraded line of blending, finishing, and polishing wheels that operate at higher RPMs for use in automated and hand finishing operations has been introduced by Rex-Cut Abrasives of Fall River, Massachusetts.

Rex-Cut® Smooth Touch(TM) Blending and Polishing Wheels feature non-woven cotton fiber construction that constantly exposes fresh abrasives as they work, are flexible, conformable, and provide smooth control. Suitable for use on stainless steel, exotic metals, and aluminum requiring a high finish, they are available in standard coarse, medium, and fine grits for use at speeds up to 30,000 RPM, depending upon diameter and thickness.

Incorporating a proprietary bond that provides a single density for appli-cations comparable to conventional 2-9 density unitized wheels, Rex-Cut® Smooth Touch(TM) Blending and Polishing Wheels are available in 2", 3", 4", and 6" dia. sizes, 1/8", 1/4", and 1/2" thick. They will also last up to five times longer than conventional unitized wheels, claims the firm.

Rex-Cut® Smooth Touch(TM) Blending and Polishing Wheels are priced according to grit, size, and quantity. Samples and pricing are provided upon request.

For more information contact:

Rex-Cut Abrasives

Kate Ouellette, Marketing Manager

960 Airport Rd.

Fall River, MA 02720

(800) 225-8182 FAX (800) 638-8501

e-mail: kateo@rexcut.com

www.rexcut.com

More from Construction Equipment and Supplies