FlexFit Pro Series AC comes with individual airflow control.
Press Release Summary: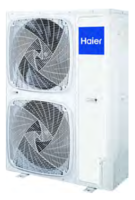 Available from 24,000 BTU to 48,000 BTU, FlexFit Pro Series AC comes with round-corner air outlet and low standby power at 4 W. Equipped with DC fan motor and quadruple-action pathogen filter, product is designed with rear and bottom air return and fresh air knock out. Featuring hidden LED temperature display and sleek design, unit provides air throw distance of up to 60 ft. AC comes with long piping length of up to 230 ft, and 100 ft drop.
---
Original Press Release:
Haier Launches FlexFit Pro Series Light Commercial Ductless AC Line
Haier Ductless is launching a new ductless series designed for light commercial installation as well as large residential applications. The FlexFit Pro series offers a number of options to make installation and inventory easy.
"Available from 24,000 BTU to 48,000 BTU, the FlexFit Pro Series is the next evolution of our product assortment for North America," said Nick Shin, vice president and business unit leader, Haier Ductless. "The outdoor condenser unit can be used with three different types of indoor units for a wide variety of applications."
Outdoor
Flexible installation with long piping length up to 230ft., and 100ft. drop
100% cooling Capacity at 0°F
Low standby power at 4W
Outdoor unit quiet operating mode reduces noise below 45dB(A)
Cassette Indoor
Unique round-corner air outlet to eliminate blind spot
Individual airflow control of the 4 louvers
Optional intelligent eye for continuous monitoring and control for improved efficiency
High Duct Indoor
DC fan motor
Consistent airflow in wide range of ESP up to 0.6in.
Rear and bottom air return
Fresh air knock out
High wall Indoor
Sleek design with hidden LED temperature display
Up to 60ft. air throw distance
Quadruple-action pathogen filter
Haier is one of the leading producers of HVAC products with capacity to produce 20 million units per year and with 10 percent of global market share. With a global R&D center, Haier is known for world-class quality and design, built and manufactured by Haier. Haier air-quality products offer the technology, features and benefits that your projects demand - delivering energy savings, simplifying installation processes and fitting seamlessly into a wide variety of residential and commercial spaces.
For more information, please visit http://haierductless.com.
About GE Appliances, a Haier company
GE Appliances, a Haier company, makes moments that matter for our owners through our passion for making great appliances and providing unparalleled services. Owners have more choices than ever before under the Hotpoint, GE®, Haier, GE Café™, GE Profile™ and Monogram® brands. Our products include refrigerators, freezers, cooking products, dishwashers, washers, dryers, air conditioners and water filtration systems. For more information visit www.geappliances.com/our-company.
Web Site: http://haierductless.com
More from Material Processing