Flex Fit™ Wireless Controls from Columbus McKinnon Provide Flexibility for Mobile Hydraulic Applications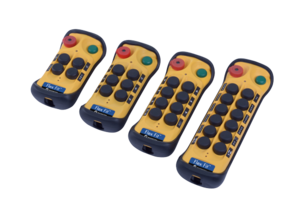 New ergonomic Magnetek® radio control improves equipment safety and efficiency
Buffalo, New York, February 9, 2021 – Columbus McKinnon Corporation (Nasdaq: CMCO), a leading designer and manufacturer of motion control products and technologies, announces the availability of Flex Fit™, the Company's latest wireless radio control for mobile hydraulic applications. Offered in flexible designs with numerous programmable functions, Flex Fit is ideal for applications using on/off or "bang-bang" hydraulic controls. When compared to restrictive, hardwired pendants or stationary consoles, Flex Fit wireless controls help improve operator mobility. With wireless controls, operators are not tethered to equipment and are therefore free to move away from machinery and potentially dangerous situations while keeping equipment running efficiently.
"Built with reliability in mind, Flex Fit transmitters are sealed to withstand harsh indoor or outdoor environments. In the event a transmitter is dropped or damaged, a spare can be put into operation immediately," said Ben Stoller, global product manager for controls. "Wireless pairing capabilities allow information and settings to be easily transferred between components, which greatly reduces the time it takes for new systems to get up and running."
With a comfortable feel, the Flex Fit is ergonomically designed to reduce operator fatigue, helping ensure accurate control and safe equipment operation. The force required to actuate and maintain a mechanical lift with Flex Fit is less than what is required with membrane-style transmitters. Flex Fit is compact and lightweight and includes additional accessories, such as protective rubber transmitter boots and a retractable belt clip, for added protection and flexibility.
The Flex Fit transmitter is available in 4-, 6-, 8-, and 12-button models with single-step control and can be configured to best suit specific functionality requirements. Transmitters are powered by either replaceable AA alkaline batteries or rechargeable AA NiMH batteries with a convenient charging cradle. Certain features of the Flex Fit are enabled when 4-, 6-, or 8-button transmitters are paired with the space-saving Magnetek MRX receiver. Full features are enabled when 12-button transmitters are paired with the Magnetek Flex 12 receiver.
For more information about the Flex Fit, or any of Columbus McKinnon's Magnetek wireless controls, call 800-288-8178 or visit http://www.columbusmckinnon.com/magnetek.
About Columbus McKinnon
Columbus McKinnon is a leading worldwide designer, manufacturer and marketer of motion control products and technologies, automated systems and services that efficiently and ergonomically move, lift, position and secure materials. Key products include hoists, crane components, actuators, rigging tools, light rail workstations, and digital power and motion control systems. The Company is focused on commercial and industrial applications that require the safety and quality provided by its superior design and engineering know-how. Magnetek is a brand of Columbus McKinnon Corporation.
Contact:
Christie Lagowski
Communications Manager
Columbus McKinnon Corporation
+1-716-689-5648
[email protected]