Flaw Detector supports range of applications.
Press Release Summary: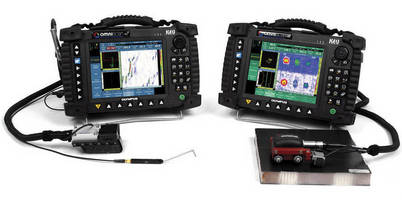 To meet range of application requirements, OmniScan MX supports conventional eddy current testing (ECT), eddy current array (ECA), and bond testing (BT) C-scan technology via 2 module versions. Both modules are compatible with MXE (ECT/ECA) and MXB (BT C-scan) software, facilitating transition between technologies. In ECA mode, flaw detector can perform inspections through thin coatings on conductive material. C-scan BT technology is suited for honeycomb composite inspections.
---
Original Press Release:

Olympus Introduces New Software and Solutions for the Eddy Current Array and Bond Testing Modules Used with the OmniScan MX Flaw Detector



Olympus, a world leader in nondestructive testing technologies, is pleased to announce the addition of new software and solutions for the Eddy Current Array and Bond Testing modules used with the field-proven OmniScan MX flaw detector.



To meet the requirements of a broader range of applications, conventional eddy current testing (ECT), eddy current array (ECA) and the new bond testing (BT) C-scan technology are available with the two module versions. Both of these modules are compatible with the redesigned MXE (ECT/ECA) and MXB (BT C-scan) software, providing easy transition between technologies and a short learning curve. Thanks to its intuitive interface design, the OmniScan MX ECA is quick and easy to configure and operate.



The OmniScan MX in eddy current array (ECA) mode has a unique ability to perform inspections through thin coatings on conductive material. This capability provides a tremendous advantage over existing methods, such as penetrant testing, magnetic particle or magneto-optical imaging (MOI), as the need to remove and then reapply paint or coating is eliminated. Additional benefits are significant cost-savings, instant inspection results, reduced turnaround time, and most importantly, chemical-free inspections. The new MXE 3.0 ECA software also features a range of color-palette representations that replicate the look of traditional NDT methods and facilitate the intuitive display of ECA signals.



The OmniScan MX ECA with its newly redesigned, intuitive interface and data cursors features integrated data-storage, analysis, and reporting functionalities that enable the inspector to review individual defect indications and apply corrections as needed.



The new C-scan bond testing (BT) technology on the OmniScan MX ECA/ECT instrument is ideal for honeycomb composite inspections. This MX BT software is dedicated exclusively to the bond testing C-scan solution and features the same user-friendly interface as the MXE software to help minimize the learning curve.



With thousands of units being used throughout the world, the OmniScan MX is a field-proven, reliable instrument that is built to withstand harsh and demanding inspection conditions. Compact and lightweight, its two Li-ion batteries provide up to 6 hours of manual or semi-automated inspection time. The highly legible 8.4 in. (213 mm) real-time color display of the OmniScan MX enables viewing of defects and details under any light conditions.



The new software comprising eddy current array, conventional eddy current, and bond testing technologies along with improved software features makes the OmniScan MX a unique nondestructive testing instrument for applications in the aerospace and oil & gas industries.



About Olympus

Olympus Corporation is an international company operating in industrial, medical, and consumer markets, specializing in optics, electronics, and precision engineering. For the industrial professional, Olympus is a world-leading manufacturer of innovative test and measurement solutions that are used in industrial and research applications ranging from aerospace, power generation, petrochemical, civil infrastructure, and automotive to consumer products. Leading-edge testing technologies include ultrasound, phased array, eddy current, remote visual, high-speed video, microscopy, optical metrology, X-ray fluorescence, and X-ray diffraction. Its products include flaw detectors, thickness gages, videoscopes, microscopes, analytical analyzers, industrial scanners and probes, and various accessories.



Our goal is to supply reliable, economical systems globally that enhance safety, security, quality and productivity for customers and that contribute to society. We are committed to actively pursuing the development of new technologies, products, and services that offer the best solutions to customers' needs. Our commitment to designing quality products is directly linked to our customers' responsibility to comply with the highest industry standards and regulations in order to ensure public safety.



For more information please contact:



Meindert Anderson

Corporate Marketing Communications Manager

(1) 781-419-3562

meindert.anderson@olympusNDT.com

Web: www.olympus-ims.com