Flaw Detection System uses volumetric grid scanning.
Press Release Summary: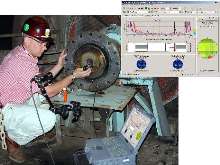 Featuring UT probes, CCD video camera for V-Scan grid positioning, and industrial notebook PC with software, ShafTest® portable ultrasonic system provides repeatable in-situ testing of shafts and axles. Software highlights cracks and provides tools to plot ultrasonic cross-sections through shaft at any depth chosen by operator. System requires only shaft-end access, avoiding equipment disassembly or multiple setups and scans in confined situations.
---
Original Press Release:
ShafTest® Ultrasonic Flaw Detection System Uses Unique Volumetric Grid Scanning to Ace Testing of Large, Complex Shafts

Portable system allows fast in-situ scanning from shaft end, maximizes data capture and detail, while 3D graphic displays and software tools speed and simplify crack analysis

June 2004 - The new ShafTest portable ultrasonic flaw detection system aces the testing of large shafts and pins with V-scan volumetric grid analysis, "zoom" capability, and 3D cross-sectional views. ShafTest provides repeatable in-situ testing of shafts and axles in rail cars, ships, turbines, off-road machinery, induced/forced-draft fans, rock-crushers, paper mills, coal mining machinery, pumps, compressors and similar heavy equipment. Designed for operators with limited experience, as well as to enhance the capabilities of experts, the innovative system requires only shaft-end access, avoiding equipment disassembly or multiple setups and scans in confined situations. Test results can be analyzed off-line to further minimize equipment downtime, and highly reproducible tests allow accurate comparison of stored shaft signatures to monitor crack growth over time. Periodic use of the system maximizes the service life of shafts, while providing comprehensive condition intelligence to avoid catastrophic failures.

Developed by CCI Pope Ltd. and marketed by Alabama-based Uni-Tech Engineering, the ShafTest system uses V-Scan mode to divide the shaft into a grid pattern, then performs an ultrasonic A-Scan exam for each grid location. ShafTest software combines the individual A-Scans into a 3-D volumetric map (the V Scan) of the shaft. V-Scan views provide the most accurate and detailed data of any testing method for monitoring crack growth from the end of the shaft, according to Uni-Tech. The process provides superior detail and precision location on cracks and flaws in their earliest stages, while the grid system assures highly reproducible data collection in periodic tests, even when conducted by different operators.

ShafTest results are reported in graphical format for ease of understanding. The analysis software highlights cracks and provides tools to plot ultrasonic cross-sections through the shaft at any depth chosen by the operator, simply by moving a slider along a screen image of the shaft. A color scale indicates the relative ultrasonic reflectivity at the selected depth, and it can be adjusted to optimize the contrast from crack reflections. Operators can zoom in on cracks, allowing them to be sized for future progression monitoring. All scan parameters are software selectable and saved along with raw data to the ShafTest database for retrieval and analysis.

The all-inclusive ShafTest system features UT probes, CCD video camera for V-Scan grid positioning, industrial-strength notebook PC with proprietary software, all packed in an industrial-strength case. Fully sealed against water and dust, the portable system carries NEMA 12 and IP52 ratings and will withstand a 15g operating shock load.

For more information on the ShafTest portable, ultrasonic flaw detection system, contact: Andy Beck, Uni-Tech Engineering, P.O. Box 510, Pelham, AL, 35124. Tel: 205-685-9431, email: andyb@unitechsales.com
More from Electronic Components & Devices