Flat Wire High Current Inductors operate up to 356°F.
Press Release Summary: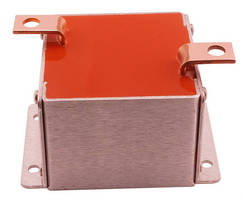 Rated to Insulation Class H, high current inductors and inductor modules range from few microhenries to over 1 mH and from 30 A to >500 A; currents up to 1,000 A are available for custom designs. Compact, flat wire design optimizes thermal management, which promotes performance and reliability. Insulated to minimum of 100 MΩ at 1,500 Vac between coil and core, modules exhibit minimal copper and winding losses, offer direct connection via bus bar, and are vibration proof.
---
Original Press Release:

New Flat Wire Inductors Excel at High Temperatures



Gardena, CA - MPS Industries is introducing a new line of high current inductors and inductor modules ranging from a few microhenries to over 1 millihenry and from 30 amps to well over 500 amps. Higher current up to 1000 amps are also available upon request for custom design.



The inductor modules are designed for high power and high current power supplies, industrial controls, and instrumentation applications. They are ideal for use in power supply applications where high temperatures can affect performance. The compact, flat wire design provides significantly improved thermal management, which results in superior performance and reliability. The unique design and construction also contributes to the inductor's superior heat dissipation.



MPS Industries' new inductor modules are insulated to a minimum of 100 MOhm at 1500 Vac between coil and core. Rated to Insulation Class H, they are operable to a high temperature of 180°C (356°F). These design characteristics make them useful for equipment produced for use in heavy-duty commercial or rugged industrial environments. Other common applications include electric vehicle (EV) applications for converters, high power inverter systems, onboard EV charging systems, and wireless EV charging systems.



Advantages of MPS Flat Wire Inductor Modules:

• Lower overall losses compared to conventional inductor designs

• Lower losses at higher current and higher frequency

• Lower copper losses

• Lower winding losses

• Significantly reduced size and weight compared to conventional toroidal designs

• Insulation: minimum of 100 MOhm at 1500 Vac between coil and core

• Low profile high current and high inductance modules

• Easily mountable

• Direct connection via Bus Bar available

• Superior thermal performance with self-cooling through chassis / enclosure or heatsink

• Vibration proof

• Designed and constructed to operate at well over Class H (>180°C)



For more information about the different configurations and packages that we offer, please contact a MPS sales representative (sales@mpsind.com) today.

More from Electronic Components & Devices